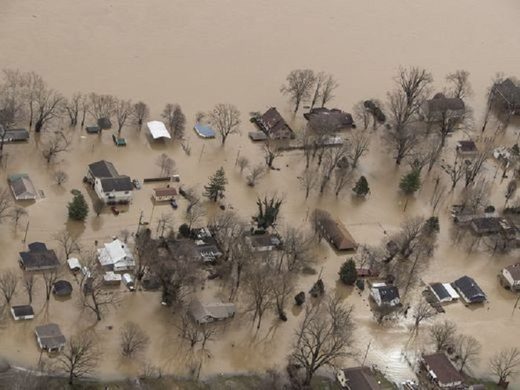 A new storm system forecast to form in the central U.S. threatened to bring additional weather misery to areas struggling to recover from a relentless series of weekend thunderstorms and tornadoes.
Roughly 70 separate rivers are now in flood stage as of midday Monday, the National Weather Service said.
The new weather system will begin a three-day romp through the lower Mississippi and Tennessee Valleys sometime Tuesday,
weather.com
meteorologist Chris Dolce said.
"After a few dry days, rain will return to some of the waterlogged cities in those regions, exacerbating the flooding situation," Dolce said.
Overall, more than 250 river gauges reported levels above flood stage from the Great Lakes to Texas, Dolce said. (Each river can have several gauges.)
The greatest issues in coming days will be in Arkansas, Tennessee, Kentucky, Mississippi, Alabama and Georgia on Wednesday into early Thursday.
In Kentucky, 2.9 inches of rain Saturday
capped off one of the wettest weeks, and months, in Louisville history
. The Ohio River rose more than 20 feet above normal levels, stranding residents, waterlogging cars and submerging local homes and businesses.
Mayor Greg Fischer said he will ask Federal Emergency Management Agency for assistance.
"We started assessing preliminary damage for an emergency declaration," Fischer said. "It looks like the damage will exceed the minimum requirement, which is $2.8 million or so."
Floodwaters on the Ohio River in Louisville and Cincinnati
are at their highest level in about 20 years
. The river was forecast to reach moderate flood stage along the southern border of Ohio and West Virginia in the coming days, according to the National Weather Service.
The weather service said the Cincinnati-Northern Kentucky International Airport is enduring its third-wettest February on record.
In Cincinnati, Andrew Scheetz's basement was swamped by four feet of water.
"We're pumping 420 gallons a minute," he said as a hose pumped water out from the basement into the street. "But we don't know if it's really helping because water is still coming in through the foundation."
In Adairville, Ky., Dallas Jane Combs, 79, died after a likely tornado struck her home, the Logan County Sheriff's Department told TV station WKRN. Two bodies were also recovered from submerged vehicles in separate incidents in the state Saturday.
In southwestern Michigan, the body of a man was found floating in floodwaters Sunday in Kalamazoo, city Public Safety Lt. David Thomas said.
In northeast Arkansas, Albert Foster, 83, was killed when his trailer home toppled under high winds, Clay County Sheriff Terry Miller told KAIT-TV.
In Tennessee, the weather service confirmed Sunday that two tornadoes touched down in Montgomery County. Kim Nicholson was watching television with her husband in Farmington when a quick but violent storm slammed into her home.
"The whole house itself actually was, like, jumping," Nicholson said.
"To look at what I'm looking at and know we didn't lose anybody is just a miracle," Montgomery County Mayor Jim Durrett said Sunday as he surveyed the damage.
Contributing: Susan Miller and Doyle Rice, USA TODAY; Thomas Novelly, Louisville Journal-Courier, Carrie Blackmore Smith, Cincinnati Enquirer;
Jake Lowary, Clarksville, Tenn., Leaf-Chronicle.