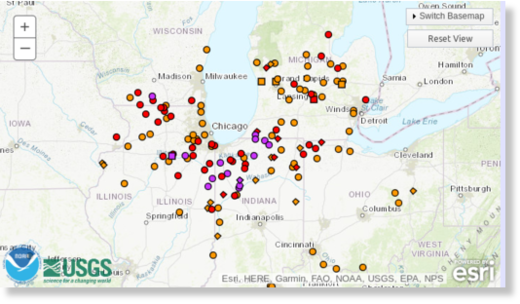 Days of rain combined with snowmelt have pushed rivers and streams out of their banks in several US Midwest states and southern Ontario, Canada.
In the Midwest, NWS reported rivers above major flood stage in 19 locations, 54 above moderate flood stage and 131 above minor flood stage.
In the USA, 2 people have reportedly died as a result of the flooding. A young child is missing after a vehicle was swept away by flood water in Ontario.
Further heavy rain brought by a winter storm from Wednesday 21 February has
also affected areas further south. Flash flood warnings are in effect for parts of Texas, Louisiana and Mississippi. Shreveport in Louisiana recorded 95 mm of rain in 24 hours to 22 February.
Illinois
The Illinois River threatened to flood parts of Marseilles, south west of Chicago. A mandatory evacuation notice was issued on Wednesday, 21 February.
The City of Marseilles said "Due to rising river levels we are issuing a mandatory evacuation for residents South of IM Canal and East of Main St This includes Mill St. Residents have 5 to 6 hours to evacuate."
The Illinois River at Morris reached 23.79 feet late on 21 February, above major flood stage of 22 feet.
In Peotone, south of Chicago, a woman died when she lost control of her car and drove into flood water.
Michigan
In Fairplain Township, Montcalm County, Michigan, a young girl died in standing water in her family's backyard on Wednesday 21 February, according to the Associated Press.
Evacuations were carried out in Croton Township, Newaygo County, as the Muskegon River burst its banks. The Muskegon River at Croton Dam crested at 11.51 feet early on 21 Wednesday. Newaygo County Emergency Services said:
"Moderate flooding is occurring on the Muskegon River. Inundation of homes, roads, and structures is occurring. If you live within the impacted area, and you have not already done so, you should evacuate now."
Authorities in Lansing, Michigan, declared a state of emergency and recommended the evacuations in vulnerable areas after the Grand River rose.
"While the rain has stopped, we are expecting significant flooding in certain areas of the city," said Mayor Andy Schor.
"Declaring a State of Emergency allows us to have all hands-on deck to proactively provide the necessary information and resources to protect our residents. The City of Lansing is prepared for emergencies like this, thanks to the efforts of our Emergency Management Center, first responders, city employees and the support of the American Red Cross and volunteers."
As of 22 February, the Grand River at Lansing stood at 14.06 feet. The National Weather Service predicts the Grand River in Lansing will crest at 14.6 feet,
nearly three feet above flood stage by late Thursday.
Indiana
In Elkhart and Goshen, local officials declared a state of emergency. About 20 people had been evacuated from homes in Elkhart by emergency crews using boats.
The St Joseph River at Elkhart stood at 28.4 feet on 22 February, above major flood stage of 27 feet.
The Elkhart River at Goshen crested on 21 February at 12.49 feet, well above the 11 feet major flood stage.
The St Joseph River at South Bend reached record levels of 12.9 feet on 21 February (previous record was 10.9 feet set in 1993). Major flood stage is 9 feet.
South Bend Mayor Pete Buttigieg said:
"The City has formally declared an emergency. Please be patient with closures and detours as the situation is still evolving. This is now a 500-year flood."
Record flooding is also occurring in Niles, where the
St. Joseph River stood at 16.87 feet on 21 February. The previous record was 15.1 feet set in 1950.
Wisconsin
Surface flooding in the Janesville area of Wisconsin left people stranded in vehicles. Police and firefighters carried out flood rescues.
The Sugar River at Albany reached
17.31 feet
on 21 February, well above major flood stage of 14 feet.
Ohio
Parts of Ohio have seen flooding since 16 February.
The Ohio River at Cincinnati crested on 20 February at 55.38 feet, but remains swollen and above minor flood stage (52 feet) as of 22 February at 54.03 feet. NWS predict river levels will remain above minor flood stage for the next 5 days at least.
Ontario, Canada
Torrential rains and mild temperatures pushed The Grand River in southern Ontario burst its banks on Wednesday, 21 February.
Local media report that about 4,900 people in roughly 2,200 homes were under an evacuation order covering neighbourhoods surrounding the river in Orangeville.
Also in Orangeville, a young child is still missing after a car he was in was swept off a flooded road and plunged into the Grand River.
The Office of the Fire Marshal and Emergency Management in Ontario also reported flooding in the city of Brantford. The office said:
"Flooding caused by an ice jam on the Grand River is affecting the City of Brantford and surrounding area, forcing evacuations, road closures and impacting local infrastructure.
The City of Brantford has declared an emergency due to flooding and is urging residents in low lying areas to evacuate."