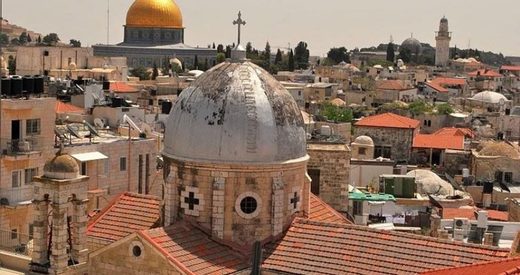 The Israeli occupation authority (IOA) has seized assets and bank accounts belonging to the Patriarchate of the Greek Orthodox Church in Jerusalem, totaling over 30 million shekels.
The IOA claimed its measure was taken to collect property tax arrears unpaid by the Patriarchate.
In a statement, spokesman for the Patriarchate Issa Mosleh said "the Orthodox Church of Jerusalem refuses to deal with this Israeli measure as it violates the status quo retained for hundreds of years in the holy city, where its churches and mortmain real estate are exempt from property taxes."
"The Israeli authorities, which have been targeting the Patriarchate of Jerusalem since His Beatitude Patriarch Theophilos III assumed his post in 2005, are not hiding its efforts to weaken the mother church," Mosleh stated.
"Such unjust measure violates the freedom of worship and affects the services provided by the Patriarchate for the society through its institutions in the fields of education, health, culture and sports," he underscored.
He appealed to King Abdullah II of Jordan,
in his capacity as the guardian of the Islamic and Christian holy sites in Jerusalem, to intervene to remove the injustice which the Patriarchate of the Greek Orthodox Church suffers from as a result of Israel's arbitrary practices.