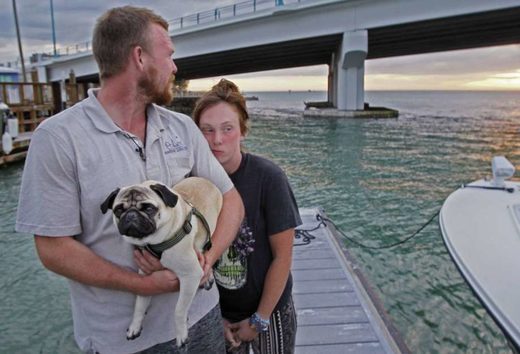 A couple who abandoned their workaday lives to buy a sailboat for a once-in-a-lifetime adventure instead lost almost everything when it sank on
day two
of their journey off Florida.
News outlets report that Tanner Broadwell, Nikki Walsh and their pet pug escaped injury when the 28-foot boat hit something and capsized Wednesday in the Gulf of Mexico near Madeira Beach. But the couple says just about everything else on the boat floated away.
"How do I have everything," Walsh told the
Tampa Bay Times
, "and end up in a s----- hotel with nothing?"
The couple had no sailing experience
, save for some help from Broadwell's father.
They said they planned to escape modern life on the sailboat after leaving Breckenridge, Colorado, last year. Now Broadwell says they have no jobs, no savings and no place to go.
Local boat captains say sandbars often shift in the channel in John's Pass where the sailboat capsized.
In an interview with the Tampa Bay Times
, the couple said they got confused while sailing at night, when the "red and green buoys seemed out of place, they said, and the shoal wasn't where their 2016-17 navigational charts said it should be."
The boat sank in about nine feet of water and is still in the channel. The Coast Guard has informed the couple they must pay to remove and store the boat, a process that could cost up to $10,000.
"I'm not going to give up now," Broadwell told the Tampa Bay Times.

"I'm going to get another boat down the road."