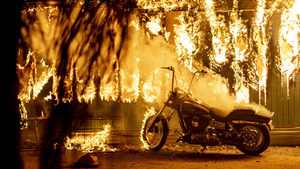 The Woolsey Fire in Malibu, California, November 10, 2018
He who passively accepts evil is as much involved in it as he who helps to perpetrate it. He who accepts evil without protesting against it is really cooperating with it.
- Martin Luther King, Jr.
Recent Comments
trumpty dumpty doesn't care about anything but money and stupid americans think he won't have them locked up or killed when he's ready what fools...
---
Maybe they are just really incompetent? Perhaps the US was testing EW systems, and the 'blame Russia' is a bonus. Keep them in fear, and in need....
---
Republicans Roger Wicker and Marco Rubio, along with their Democratic colleagues, Jeanne Shaheen and Chris Coons, argue that Moscow "routinely...
---
oh no! what will we ever do without those wonderful actors?
---
There are two types of people in the world, those who divide everything into two, and those who don't. LOL. There are also those who succumb to...