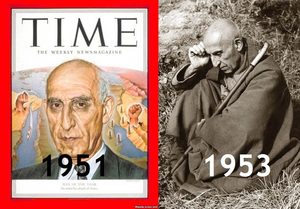 Mohammad Mossadegh, TIME Man of the Year, 1951 after he became the first democratically-elected PM of Iran. On 20 August 1953, he was overthrown in a CIA-MI6 coup and lived out his life under house arrest
Shared pain is lessened; shared joy, increased - thus do we refute entropy.
- Spider Robinson
Recent Comments
This devil should be hit with sanctions.... and a 2 X 4. The world will be a better place when Soros dies and returns to hell.
---
Belief is for p2$$13$! There are few things I know, and infinitely many more that I don't know. Belief has more to do with bias than anything...
---
I don't understand what they're doing out there in the middle of that desert, surrounded by peoples they hate and who hate them right back. Who...
---
They misunderstood. Mexico wants him because they are going to murder him . Just a bit lost in translation. The U.S. is happy to facilitate the...
---
This whole thing is ridiculous.