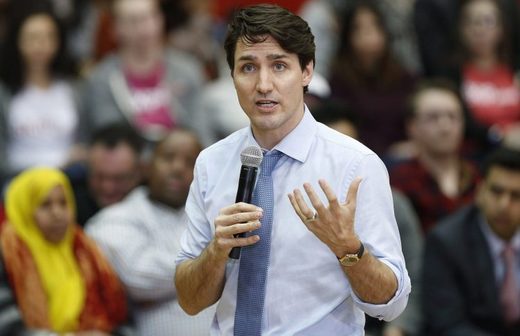 Don't worry, everyone - apparently Justin Trudeau was only joking when he said he prefers saying 'peoplekind' instead of 'mankind'.
The Canadian prime minister has backtracked after a video showing him appearing to correct a woman during a question and answer session went viral.
He interrupted a woman named Aimee when she said the word 'mankind', telling her: 'We like to say peoplekind, not necessarily mankind, because it's more inclusive.'
Maybe it was his deadpan delivery, but unfortunately for Mr Trudeau, nobody seemed to pick up on his mad bants.
That includes the woman he was speaking to, everyone in the audience and most people watching the clip online.
According to
The Globe and Mail
, Mr Trudeau told reporters what really happened without being prompted.
He said:
'I made a dumb joke a few days ago that seems to have gone a little viral in the room on the 'peoplekind' comment.
'It played well in the room and in context. Out of context, it doesn't play so well.

Comment: Nice try Trudeau. He's already proven himself to be Canada's liberal SJW leader, so coming from him, it's not so 'out of context' but rather quite expected.


'It's a little reminder to me that I shouldn't be making jokes even when I think they're funny.'
Mr Trudeau has been mocked since making the comment, including by Canada's Conservatives,
with the opposition's deputy leader Lisa Raitt telling him to 'person up'.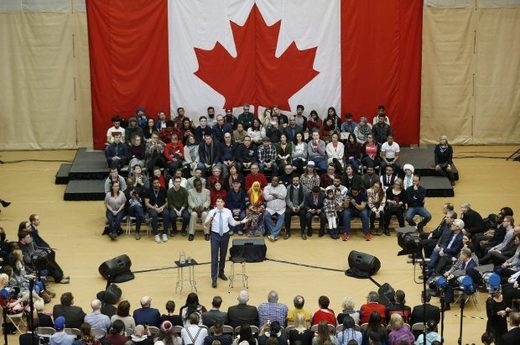 The exhange happened during a public meeting in Edmonton.
Aimee, who is from the controversial church World Mission Society of God, said: 'We have received the Queen's Award in the UK, we have received many awards.
'We have received many awards, however, unfortunately in Canada, our volunteering as a religious charitable organisation is extremely difficult.
'We came here today to ask you to also look into the policies that religious charitable organisations have in our legislations so that it can also be changed because maternal love is the love that's going to change the future of mankind.'
Trudeau then cut her off, saying: 'We like to say peoplekind, not necessarily mankind, because it's more inclusive.'
Aimee later told DailyMail.com that she wasn't offended by what he said. She said: 'It wasn't negative. Did it look like I was bothered by it?'