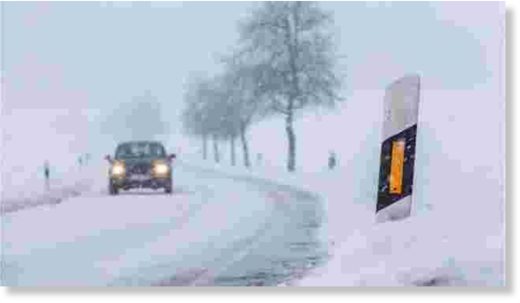 A fast moving arctic cold front swept into central Montana Thursday morning bringing with it a
dramatic drop in temperatures and near whiteout conditions along the Rocky Mountain Front.
"It is just reaching the Helena Valley now," meteorologist Christian Cassell said at noon on Thursday. "Down in that area they've had rain and temperatures in the 40s and they're going to see
a 30-degree drop in an hour
with flash freeze conditions
. Wolf Creek's already plummeted into the teens from 46-degrees earlier."
Some areas extending south of Wolf Creek Canyon along Interstate 15 were reporting wind
gusts of up to 30-miles-per-hour with near zero visibility.
"In addition to the flash freeze, which will occur in the next couple of hours ... the snow could become quite heavy at times," Cassell added. "Helena did just cancel their classes early today, and have canceled for tomorrow too."
At 2:20 p.m. Thursday the Havre Police Department issued an emergency travel advisory recommending emergency travel only until 6 a.m. Friday.
"Be prepared for significant reductions in visibility at times," the Havre advisory states.
"The cold wind chills as low as 20 below zero could cause frostbite on exposed skin in as little as 30 minutes."
"Visability at the Great Falls Airport was limited to just half a mile as of noon on Thursday.
The storm's effects in Cascade County were not quite as dramatic, thanks in large part to the fact that arctic air was already in place over much of the area.
Snow accumulations of 2 to 5 inches are expected on the plains,
with 8 to 16 inches expected in the mountains.
"We should expect snow to continue — and even some fog here — through the remainder of Thursday," Cassell said. "The worst of it should be finished this evening. We'll still see light snow around, but definitely diminishing in intensity and becoming really light for Friday."
While conditions will improve heading into the weekend, temperatures will remain cold with highs in the upper 20s and lows in the single digits above zero.
One unusual aspect associated with this latest weather system is the
unusually high accumulations of snow since the beginning of February.
"February is actually our driest month during the winter," Cassell explained.
"We've already had 7.4 inches this month (Great Falls Airport) and our normal for the entire month of February is only 8.6 inches. We should already surpass our monthly normal by midnight tonight (Feb 8).
Several reporting stations in central and eastern Montana are reporting historic snowfall totals through the first week in February. According to National Weather Service data, Fort Assiniboine west of Havre has already received 59.0 inches of snow thus far this season, far eclipsing the 40.3 inches reported by the same date in 1959.

Snowfall records through Feb. 6 were also tied or broken at Montana State University in Bozeman, outside Lewistown, and in Shelby. Chinook, Conrad, Cut Bank, Havre and Loma have all exceeded their second highest snowfall totals through February.