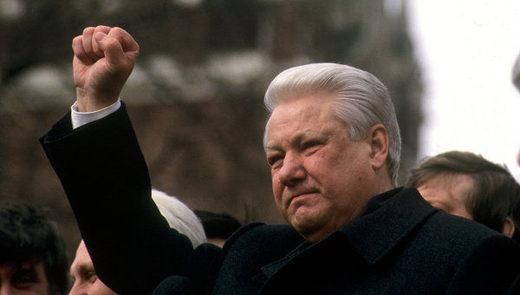 A previously never-before-seen interview with Boris Yeltsin from June 1990
Alexander Cheparukhin, a music promoter and the founder of Greenwave Music (which has organized performances in Russia by Michael Nyman, Kraftwerk, Kronos Quartet, and others), recently shared a previously unreleased video interview from June 1990 with Boris Yeltsin in honor of what would have been the late president's 87th birthday. An environmental activist at the time, Cheparukhin spoke to Yeltsin aboard a train car headed from Moscow to Riga. Austrian journalist Werner Kreutler was along for the ride. Just days earlier, Yeltsin had been elected to serve as chairman of the Presidium of the Supreme Soviet of the Russian Soviet Federative Socialist Republic.
Meduza
summarizes this new footage of Boris Yeltsin.
On Facebook, Alexander Cheparukhin described the interview in detail, writing about his ecological projects from the Perestroika period, which allowed him to start traveling abroad. During that time, he was also involved with a group that assisted sick children, and part of his work included bringing children with leukemia from Minsk to Europe for treatment. This is how he met the Austrian journalist Werner Kreutler. They began reporting on politics together and both became Boris Yeltsin "fanatics."

As Cheparukhin puts it, he was shocked by the "persecution of Yeltsin" in the late 1980s, when he was removed from his position as the first secretary of the Moscow City Committee of the Communist Party of the USSR, following harsh criticism from the party leadership. "This was a personal tragedy for me. Before this, the country's movement towards freedom seemed irreversible," remembers Cheparukhin. He and Kreutler dreamed of interviewing Yeltsin in order to tell his story to the West, but Yeltsin refused to speak with journalists.


After Yeltsin was elected chairman of Soviet Russia's Supreme Council in late May of 1990, Cheparukhin tried once again. Through a friend named Valentin Yumashev, the journalist who co-authored Yeltsin's autobiography, Confessions on a Given Topic (translated into English as Boris Yeltsin: Against the Grain), Cheparukhin learned that Yeltsin would soon take a train from Moscow to Riga. He also found out that Alexander Korzhakov, Yeltsin's bodyguard, could help arrange an interview. Cheparukhin and Kreutler managed to board the train illegally - literally jumping onto a railcar step as the train departed. They explained the situation to Korzhakov and just "five minutes later" they were sitting with Yeltsin and filming an interview.

"The Austrian newspaper Kurier did an entire spread on the interview and our reporting. Nearly every publication around the world reprinted the story. This was Yeltsin's first interview in years," Cheparukhin recalls. In the interview, Yeltsin talked about upcoming reforms, the rejection of an "all-union bureaucracy" (which he called a "dismantling" of the whole administrative command system), and the creation of a committee for public safety to replace the KGB. "Not 'national' but public. And it won't have the functions currently performed by the KGB that scare most of our people," Yeltsin explained.

Cheparukhin also asked Yeltsin an emotional, "personal" question about his experience at the Communist Party Central Committee's October 1987 plenum, where he spoke out publicly against the party's leadership and was promptly condemned for doing so.

"For me, those two and half years were the hardest of my life. The hardest. I spent a lot of that time feeling sick and enormously anxious," Yeltsin said. "It was so hard because, when I joined the party, I too believed in its ideals. I joined with the complete certainty that I was really going to participate in our country's spiritual and humanistic rebirth. After working in the Politburo for two years, however, I realized that many of these people aren't the brains, the honor, or the conscience of the party or our people. And they aren't our country's great intellectuals, either. The people there were ready to betray, besmirch, and defile for the sake of their jobs and for the sake of their career prospects."

The journalists also asked Yeltsin why it would be another year before Russia would elect its first president. He answered: "We need to draft a new constitution, and all Russia's peoples need to prepare for free, direct elections by secret ballots. That's the whole point."
Text