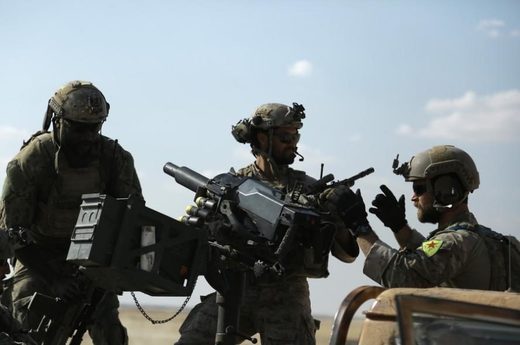 Last week
we reported
that days after Turkey valiantly demanded that US forces vacate military bases in the Syrian district of Manbij, the US predictably refused, and on Monday a top American general said that US troops will not pull out from the northern Syrian city of Manbij, rebuffing Ankara demands to withdraw from the city and risking a potential confrontation between the two NATO allies.
One week later, in the latest dramatic escalation between the two NATO members, Turkey's Deputy PM has warned that US troops fighting alongside Syrian Kurdish militias in the same uniform
may be targeted by the Turkish army due to the difficulty of distinguishing them in the heat of battle,
effectively stating that US troops in northern Syria are now "fair game" in the ongoing deadly conflict.
Speaking to
CNN Turk on Sunday,
Turkish Deputy Prime Minister Bekir Bozdag said
if US troops wear "terrorists' clothes" and find themselves among "terrorists" of the Kurdish YPG forces attacking the Turkish troops, "there is no chance that we will make a distinction at this point."
The unambiguous warning comes at a time when Turkish troops are making further advances into the Kurdish-held Syrian province of Afrin as part of the recently launched "Operation Olive Branch." As
RT reports
, Ankara had previously complained that the
American troops' embedding with Kurdish militias - regarded as terrorists in Turkey - is unacceptable for the US-Turkish alliance
.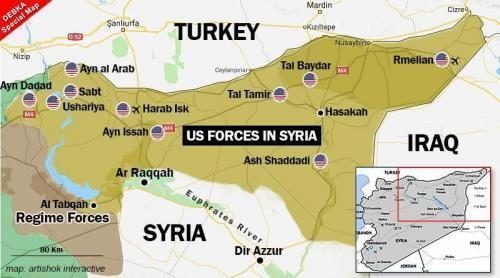 In the interview, Bozdag stressed that any person bearing weapons and fighting alongside the Kurds "is our target" however, he added that neither side wants open confrontation. Ankara has made it clear that US troops present in the area should stay away from where the Turks operate, and should not assist their Kurdish allies, he said.
"We are clearly saying that we do not want to confront our ally, the United States. I am sure that they do not want to face Turkey and Turkish armed forces," Bozdag stated, although he also made it clear that
a confrontation appears inevitable if the two sides continue on their present course.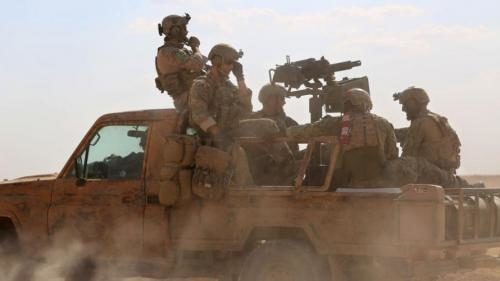 Is Turkey accurate in warning that US soldiers can be mistaken for Kurdish rebels? Surprisingly - or maybe not - the answer is yes.
There have been numerous reports suggesting US Special Forces (SOF) teams use the insignia of Kurdish paramilitary groups. In May last year, an AFP photographer made a number of images showing armed men in uniform - identified by Syrian rebels as US SOF operators - in a pickup truck equipped with an Mk 19 grenade launcher.
The soldiers, sporting top-notch weapons and body armor, were wearing YPG badges.
At the time, the Pentagon said "insignias and other identifying marks with their partner forces" were being worn in order to "blend in with the community."
* * *
The Turkish armed forces have been fighting the Kurds since January, when Ankara green-lighted a ground offensive in the Kurdish enclave of Afrin, codenamed, with 100% irony,
"Operation Olive Branch."
Syrian rebel forces loyal to Turkey are spearheading the offensive, while the Turkish military provide close air support and heavy weapons.
The operation aims to drive Kurdish militias from the area, but it does not come without setbacks. Bozdag said 13 soldiers "died martyrs" during the offensive, while 39 others were injured. Meanwhile, the Turkish command says some 900 Kurdish fighters have been "neutralized" so far, the state news agency Anadolu reports.