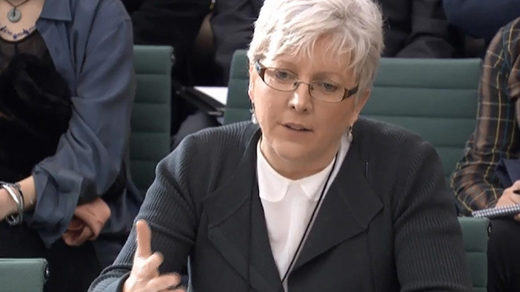 The BBC is stumbling towards a "Greek tragedy" over its lies about the corporation's gender pay gap, according to Carrie Gracie, who told MPs the atmosphere at the broadcasting house has become "toxic."
During a parliamentary committee on Wednesday, the former China editor said the BBC risks indelibly tarnishing its reputation as it falls short of
admitting
the pay discrepancy that exists between its male and female staff.

Comment: Admit your predetermined guilt, BBC. The pitch forks are coming.


"Yet the BBC lives or dies by its reputation for telling the truth," Gracie said.
She was giving evidence to MPs during her grievance process after she resigned last month in protest over what she called the "secretive and illegal pay culture," which she detailed in an open letter published in the
Times
.
It came after a report found that two-thirds of those earning more than £150,000 ($213,800) a year at the BBC were men.
Gracie told MPs that she had been fooled by her head of news, Fran Unsworth, as she had failed to inform her about her male counterparts' salary.
Gracie agreed with Unsworth in 2014 to be paid £130,000 ($185,300) for her role as China editor. This was agreed after the head of news assured Gracie that her counterpart in North America was on the same amount.
The North America role was
then
given to Jon Sopel, however, who already earned £200,000-£249,999 ($285,120-$356,400) and remained on that salary. Gracie was never notified about the pay discrepancy.

Comment: In other words, they gave the position to an employee who had already passed through the hurdles to receive a higher salary. Rather than demote him by cutting his pay, they kept it where it was. That's called seniority, not discrimination.


"I would expect the most senior woman in BBC News to stand up for her senior women journalists," Gracie said. She also expressed dismay at learning that Unsworth had dismissed her as a "part-time" employee.

Comment: That's just one of the reasons women tend to make less: on average, they're more agreeable: i.e., they tend not to negotiate hard for higher pay, instead expecting others to do their fighting for them. (Many agreeable men fall into the same trap.)


"It really pains me and hurts me that the corporate machine is not living up to our values. This is damaging the credibility of the BBC in a completely unacceptable way," said the former China editor.
Unsworth dismissed the claims, saying there had been a "misunderstanding".
Gracie then vented her frustration at seeing the former head of news, James Harding, appear on television to deny that there was an equal-pay problem at the BBC. "I just thought, 'No, that's not what BBC journalists do. They tell the truth,'" Gracie said.
"He said that Fran's answer was that
I was part-time
. That was very upsetting," she added. When she decided to resign, Gracie said she "went from hero to zero" in an instant. "I work in China, so I'm used to attempts at intimidation. I said to my lawyer when she warned me that the grievance process could be difficult, 'How hard can it be? I'm the China editor.' I underestimated it."

Comment: Was she part-time? If she was, that pretty much explains the whole situation.


Gracie added that female staff at the BBC had felt "belittled" and "marginalized" when they learned about the 9.3-percent gender pay gap that plagued the corporation. "Many women have already left, and many are leaving now. We have a toxic work atmosphere, and it's going to get worse," she said.

Comment: Seriously? Seriously. Maybe statistics courses should be mandatory before corporate employment. But no, that would be just another patriarchal hurdle designed to keep women down.


BBC Director-General Lord Hall, who also attended the process, offered a qualified apology to Gracie, saying he was "sorry we're in this position."