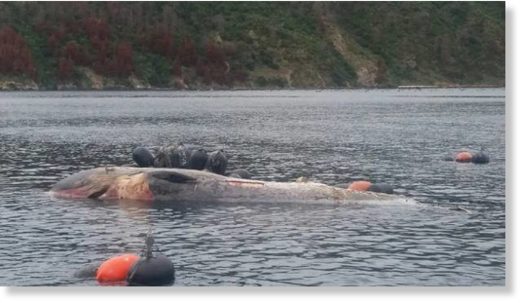 A carcass of a large 16-metre whale has been found in the outer Marlborough Sounds.
The dead whale was found caught up in a mussel farm in Port Ligar, near d'Urville Island, but was likely dead before it got tangled.
Department of Conservation spokeswoman Trish Grant said the carcass was that of a sei whale or a Bryde's whale, but DNA tests would confirm the species.
DOC received reports of the whale carcass on Monday.
Skin samples were taken from the whale for DNA analysis to help identify its exact species, Grant said.
It had since been moved away from the mussel farm.
"[The whale] is now tethered securely on the coastline elsewhere in that area to decompose naturally in the tidal zone. It's an area where it won't be a navigational hazard and away from public use.
"It is thought to have already been dead when it washed up on the coast. There is no obvious sign of injury or cause of death and its death could be due to natural causes," she said.
Marlborough harbourmaster Luke Grogan said his team was aware of the dead whale and was confident it did not pose a risk to boat users.
This was the second dead whale to have been reported in the outer Sounds in four months.

In September last year, a 15-metre whale carcass was found floating near d'Urville Island.
Sealord skipper Peter Connolly, who saw the carcass last year, initially thought the dead ocean giant was an upturned hull but upon closer inspection realised what it really was.
Connolly saw it being feasted on by birds.
"It was those big black petrels ... they're like an albatross-size bird. They were just feeding on it absolutely profusely," he said.
The floating carcass last year resulted in a navigational warning being put in place as it posed a danger to boats.
Source: The Marlborough Express