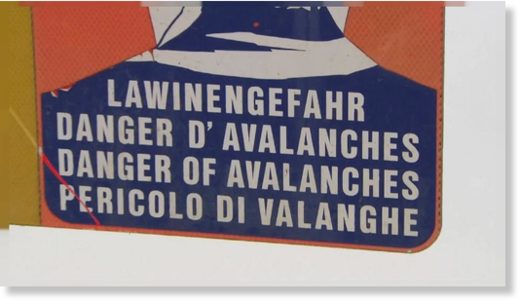 Avalanche warnings across the Alps in Switzerland, Italy and Austria.
Heavy snow is causing chaos in much of Europe's Alpine region. Switzerland is under a level five danger of avalanches with the highest accumulation of snow for nineteen years..
The heavy snow, combined with higher than average temperatures for January, has put much of northern Italy on high alert for avalanches.
Scores of tourists remained trapped in ski resorts in South Tyrol after heavy snowfall blocked roads .
Up to three metres of snow were reported in Val Senales where a provincial road linking several villages was closed due to the risk of avalanches
About 30 roads and passes were closed in the Austrian Alps after about a metre of fresh snow fell in the western parts of the Tyrol, partially cutting off ski resorts . In some areas, the avalanche risk level was raised to the highest level of five for the first time since 1999,
The avalanche danger will diminish during Tuesday as the snow stops falling in the early hours of the morning, according to the Davos-based Snow and Avalanche Institute.