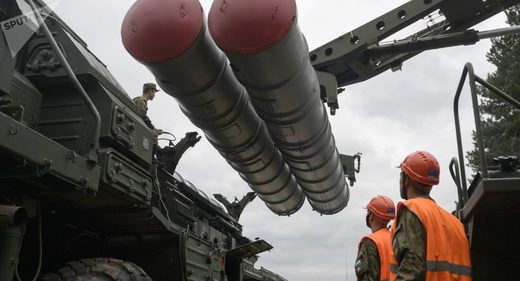 A number of auxiliary components for S-400 air defense systems that had been sent from Russia to China under the 2014 contract were damaged during the shipment by sea, the Russian defense industry cooperation service (FSMTC) said Friday.
According to FSMTC spokeswoman Maria Vorobyeva, a ship carrying the components has been caught in a storm while passing the English Channel and was forced to return to Russia.
"As a result, part of the auxiliary components shipment on board was damaged. The evaluation of damages for insurance purposes is underway," Vorobyeva said.
"Upon the completion of this work, the undamaged equipment will be shipped to the customer by the same ship, while the components substituting the damaged ones will be shipped later,"
she added.
The S-400 Triumph is Russia's next-generation mobile surface-to-air missile system carrying three different types of missiles capable of destroying aerial targets at a short-to-extremely-long range. It integrates a multifunctional radar, autonomous detection and targeting systems, anti-aircraft missile systems, launchers, and a command and control center.
China has become the first foreign state to sign a contract on supplies of Russia's S-400 systems. In November 2014, Russia's
Vedomosti
newspaper reported that Russia was due to supply six battalions of S-400 with a total price of $3 billion.
The contract on the delivery of the S-400 to China is expected to be fulfilled by 2020, according to the FSMTC.
Apart from China, Russia has signed agreements on supplies of S-400 systems with India, Saudi Arabia and Turkey. Media reported in November that the negotiations on the systems' supplies to Morocco are underway.