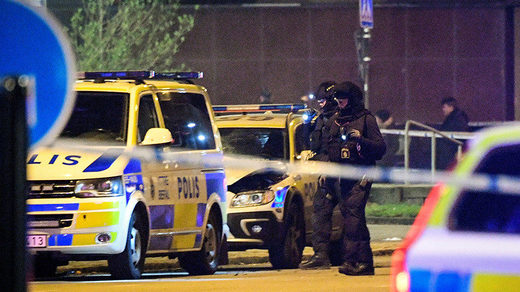 A loud explosion has been heard at the police station in the Swedish city of Malmo. The explosion was caused by a hand grenade, according to news reports.
"The place is locked off and the bomb group is on its way," police spokeswoman Anna Goransson was quoted as saying by Aftonbladet.
The alleged attack happened shortly after 9pm local time in the courtyard of the police station. "Fortunately, no people have been injured, but cars, I cannot say how many, have been damaged," Goransson told reporters.
Authorities have yet to confirm what caused the explosion, but local media are reporting that a hand grenade was used.
The detonation took place just as the two suspects approached the station, according to reports.
The authorities arrested two men in their 20s, police said in a statement, adding that the incident is "currently classified as common destruction."
Police have been placed on high alert with armed officers deployed to strategic locations around Malmo.
As the investigation continues, local media and authorities have sketched possible connections with a recent spate of attacks on police stations in Sweden. On December 29, a police car was destroyed outside a police station in Malmo.
In October, a powerful explosion outside the police station in Helsingborg also caused significant material damage. Following Wednesday night's attack, the Police Association
tweeted
that "attacks against police must end."
Regional police chief Carina Persson called the attack "completely unacceptable," after visiting the scene of the explosion.
"We must continue to work intensively in the fight against the serious crime,"
she said, vowing to punish the perpetrators.
Earlier, Sweden's Prime Minister Stefan Lofven said deploying the military to clamp down on organized and violent crime remained an option, local media reported.
While authorities in Malmo have yet to confirm any links to terrorism,
Sweden's Security Police (SAPO)
warned
that "terrorism levels in Sweden remain at an elevated level."
The violent Islamist extremism currently represents the most significant threat to Sweden, SAPO's Anders Thornberg said referring to the most recent terror threat evaluation conducted by the National Center for Terrorism Assessment.
"Lonely perpetrators" continue to pose the biggest terrorist threat.
"The violent extremist environment in Sweden currently comprises about 3000 actors," he said. In a society where "radicalization can be done very quickly," perpetrators can evade the security radar, Thornberg noted.