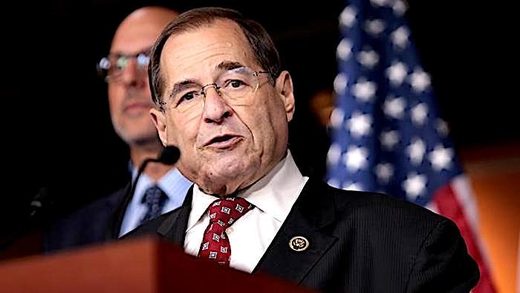 If all Democrats had opposed the FISA Amendments and Reauthorization Act, they could have united with libertarian-leaning Republicans to block it.
New York Congressman
Jerry Nadler
,
the ranking Democrat on the House Judiciary Committee and one of the chamber's most ardent defenders of civil liberties, went to the floor of the House on Thursday with
a simple request: that members reject the draconian FISA Amendments and Reauthorization Act of 2017.
Nader's
argument
was pointed and powerful:
"When we came to Congress, each of us took an oath to defend and protect the Constitution of the United States. I ask that each of my colleagues honor that oath today - and that we work together to defeat this bill, and to bring the right set of reforms to the floor without delay."
He explained that the legislation, which has the backing of the White House and Republican leaders in the House,
proposed to reauthorize the federal government's surveillance powers without adequate safeguards for the privacy rights of Americans.
Noting that the legislation, which is supposed to protect against terror threats,
"allows the FBI unfettered access to (federal database) information, for purely domestic cases, without a warrant,"
Nader asked:
"What does that mean, in the era of Jeff Sessions and Donald Trump? It means that absolutely nothing stops the Department of Justice from trolling the database for evidence that you use marijuana, or failed to pay your taxes, or may be in the country unlawfully, or possess a firearm that you should not have."
Nadler was not alone in his assessment.
"The government will use this bill to continue warrantless intrusions into Americans' private emails, text messages, and other communications,"
warned Neema Singh Guliani, the policy counsel with
the American Civil Liberties Union
. "No president should have this power."
Those concerns were sufficient to convince a bipartisan coalition of 164 House members to oppose a measure that represents a clear and present danger to privacy rights.
Nadler was one of 119 Democrats who voted "no." They were joined by 45 Republicans,
many of them libertarian-leaning mavericks who recognized the threat that their respected colleague from New York was warning about.
That added up to
164 "no" votes, versus 256 "yes" votes
from 191 Republicans and 65 Democrats-including those of minority leader Nancy Pelosi, D-California, minority whip Steny Hoyer, and others listed on
this Roll Call page
.
Here's the truly unsettling part about the vote. If the full Democratic caucus had listened to Nadler's argument, and heeded his warning that the bill they were considering "pretends at reform while codifying some of the worst practices of the intelligence community," the measure could have been beaten. Add 65 Democratic votes to the 164 "no" votes and you get 229-a clear majority for civil liberties. (If nine
abstaining Democrats
had voted "no," the vote to affirm privacy rights could have gone as high as 238.)
Defeating the FISA Amendments and Reauthorization Act of 2017 would have been a dramatic victory for the resistance not just to President Trump and Attorney General Sessions but to the authoritarian impulses of those who already have too much access to too much of
our
personal information. It would have also signaled that Democrats have achieved clarity, and unity, on some basic values: such as respect for the Constitution, privacy rights, and civil liberties.

Comment: The Democrats, given what transpired over the past two years, have not shown themselves to have a lock on clarity or good judgement - certainly not respect for the Constitution, the American people or the process of law.


Noting that outspoken conservatives voted with progressive Democrats to block the FISA bill,
Congressman Ro Khanna trenchantly framed the issue
: "When [Michigan Republican Justin Amash and North Carolina Republican Mark Meadows, the chair of the House Freedom Caucus] vote against surveillance, but scores of Democrats vote for it, then its fair to ask what does our party stand for? If we can't be unified around the principle of civil liberties, then what is the soul of our party?"
The fight over whether to protect civil liberties now moves to the Senate where Constitution-inspired Democrats and Republicans will continue the struggle.
Jerry Nadler's message to the House holds true for the whole of the Congress:
Our right to privacy does not begin when the Department of Justice has a fully formed criminal case against us. Nor does it begin when prosecutors enter our emails and text messages into evidence against us in court. The Constitution guarantees far more than this. Our right to privacy protects us when the government first makes its decision to search our private communications for information it might find useful.

[This measure] falls well short of this basic guarantee. We therefore cannot-we must not-support this bill.