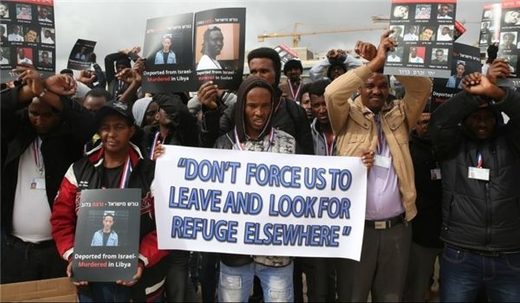 Volunteer civilians who are willing "to temporarily serve as inspectors in the expulsion of asylum seekers" will be given a bonus payment of up to 30,000 shekels ($8,705), Haaretz reported.
Israeli authorities on Sunday "published a notice that it is hiring 100 inspectors on a temporary basis for terms of two years,
from March 2018, as well as 40 investigators for the unit that examines asylum requests".
The 'inspectors' will be working in the greater Tel Aviv area, with some hired for the voluntary repatriation program and others to enforce laws against asylum seekers and their employers.
According to the newspaper, the job "would entail holding hearings for the asylum seekers; interviewing and documenting the ones prepared to leave 'voluntarily'; coordinating and issuing travel papers and coordinating flights; accompanying asylum seekers; and monitoring their re-entry to their countries or origin or elsewhere."
The others would be involved in the "enforcement of laws against asylum seekers and their employers.
Their job would be to find them, record their stories and investigate the employers as well
".
Israel has approved a plan to force asylum seekers to choose between indefinite detention in an Israeli prison or deportation to a third country in Africa.
The migrants were told they had three months to leave, drawing condemnation by activists who stressed that the Israeli's government move would endanger people's lives.
According to the Israeli scheme, asylum seekers will be given a plane ticket and up to $3,500 for leaving.
The United Nations on Tuesday called on Israel to scrap a new program forcing thousands of African migrants out of the country, condemning it as incoherent and unsafe.
The plan was widely criticised when first unveiled last year, but the UN refugee agency sounded a fresh alarm after Israeli Prime Minister Benjamin Netanyahu's announcement early this month that the program had begun.
"UNHCR is again appealing to Israel to halt its policy of relocating Eritreans and Sudanese to sub-Saharan Africa," the agency said in a statement.
UNHCR Spokesman William Spindler told reporters in Geneva that the program was not "coherent" and "has been implemented not in a very transparent manner."
Currently, Israel is home to about 40,000 asylum seekers, according to government figures, which includes 27,500 Eritrean and 7,800 Sudanese asylum seekers, the UN refugee agency (UNHCR) has reported.
Migrants, however, oppose the decision, saying Israel is trading the migrants with other countries against their will. Rights activists stressed that Israel has created a separate justice system which restricts the rights of the people with a different skin color.
Israel has not clearly said where the migrants will go, but tacitly recognises it is too dangerous to return the Sudanese and Eritreans home.