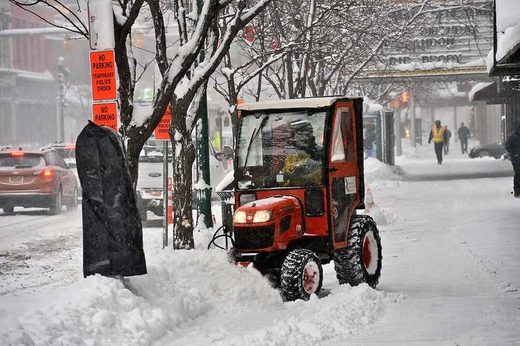 If you like your winters cold
and
snowy, this month has been perfect.
The first week of January has been the
coldest such period in Syracuse since 1904.
It's also the fourth-snowiest start to the new year on record.
The average temperature for the first seven days of 2018, including today's morning low and forecast high, is 7.3 degrees. That's just 0.1 degrees warmer than the same period in 1904, which remains the coldest kickoff to January since records began in 1902.
(If today's high falls just 2 degrees shy of the forecast of 18, this week would end up even colder than 1904.)
Along the way, Syracuse set a new record low for New Year's Day of minus 15, and tied today's record low of minus 11.
The normal average temperature for the first week of January is 24.3 degrees.
This month has also been an overachiever in snowfall. By midnight Saturday, 23.4 inches of snow had fallen,
making this the fourth-snowiest first week of January on record.
The record is 1994, with 32.2 inches.
Normal snowfall for the first week of January is 7.3 inches.
The worst (or the best, depending on your views on winter) is over. Temperatures rise into the mid-30s Monday, and close to 50 by Thursday.