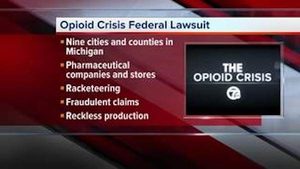 The lawsuit targets major pharmaceutical companies such as Purdue as well as drug distributors and retail pharmacy chains.
Detroit is the latest city to sue opioid manufacturers, joining forces with nearby Macomb County to launch a lawsuit that includes many Michigan cities to attempt to stop pharmaceutical companies from making false or misleading marketing claims.
"Opioids-profligately sold to treat virtually any ailment-have destroyed the lives of countless men and women who had the misfortune of suffering from back pain, arthritis, workplace injuries and a countless array of other relatively minor and term-limited painful conditions," the lawsuit reads, according to
MLive
.
The suit names OxyContin manufacturer Purdue Pharma, which
has been sued
by many other municipalities
over its claims
that the drug provided 12-hour pain relief. In order to give patients 12 hours of relief, Purdue allegedly pressured doctors to use higher doses, increasing the likelihood of dependency and addiction. Purdue has already paid federal fines related to OxyContin.
Cephalon, Teva and Endo, other pharmaceutical companies, are also targeted by the lawsuit. The suit also names pharmacies including CVS, Walgreens, Rite Aid and Costco, alleging that their distribution system had a "pattern of racketeering."
"It's not that we want to profit from litigation, we want to stop it through litigation," said Macomb County Executive Mark Hackel, who announced the lawsuit alongside Detroit Mayor Mike Duggan, according to
The Detroit Free Press
.
Last year, opioid deaths rose 134% in Macomb County.
In Detroit, opioid overdoses kill about 300 people each year.
"There is a financial burden, but there's a bigger human burden," Duggan said. "I've heard the story from so many people. A loved one goes into the hospital for a surgery or some other medical procedure and they end up with an addiction that can severely damage their life."
The problem was perpetuated by the multi-million dollar industry, said Mark Bernstein, a lawyer who is working on the lawsuit. "They were telling the doctors that opioids are not addictive or minimally addictive," he said. "There were two addictions here. The addiction of the patients, but also the addiction to profits by these drug companies."
In October, two other Michigan counties
launched similar lawsuits
. Wayne County Executive Warren Evans said at the time that opioid addiction is a "full-blown health crisis from which the drug companies have made billions."
"It doesn't take a rocket scientist to understand that there are far more drugs out there that have been prescribed legally than any one could ever use in any constructive, logical, or medical way," Evans said.