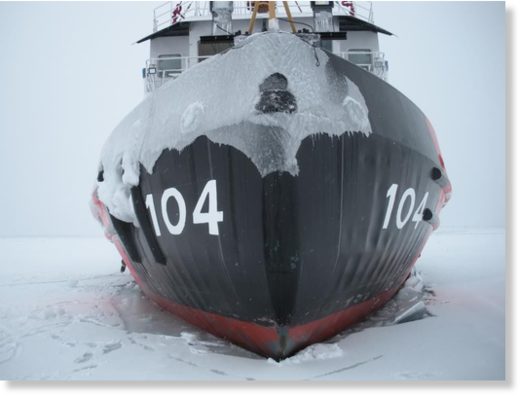 Coast Guard ships from the U.S. and Canada were called on to free two freighters stuck in the ice near the eastern edge of the Upper Peninsula today.
The stopped freighters created a bit of a shipping traffic jam in the St. Mary's River Thursday and marked the third freighter that had to be helped out of that area this week.
Subzero temperatures mean ice is forming faster on The Great Lakes, which is a recipe for some of these big ships getting stuck in tight spots.
On Tuesday, the Coast Guard cutter
Biscayne Bay
was able to free the Duluth-bound James R. Barker
, a 1,000-footer, from ice near Neebish Island.
Today, the
Biscayne Bay
headed back to that same area around 2 p.m. to free the
Walter J. McCarthy
from ice in the up-bound Middle Neebish Channel, the Coast Guard said. The
McCarthy
became stuck in the ice late Wednesday.
A Canadian Coast Guard ship, the
Samuel Risley
, was able to free the down-bound
Edgar B. Speer
about 3 p.m. today. The Speer had become locked in the ice near Sawmill Point about 4 a.m. Thursday, the Coast Guard said.
When both thousand-footers were stuck earlier today, it caused a bit of a traffic jam in the shipping lanes of the St. Mary's River. Twelve other vessels were impacted, authorities said.
At last check on
marinetraffic.com,
both freighters were on their way. The
McCarthy
is headed to Two Harbors, Minn., and the
Speer
is on its way to Gary, Ind.