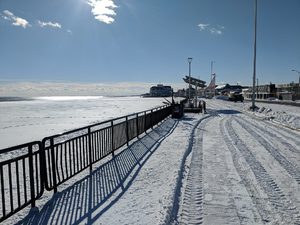 Mother Nature is giving New Hampshire more than just the cold shoulder to end 2017, she's giving us the back of her hand.
Thanks to a blast of arctic air, we're bracing for temperatures
about 20 degrees colder than normal averages over the next week. In Concord temperatures are expected to dip as low as -11.
Of course this doesn't even factor in the wind chill, which we all know provides an extra slap in the face when we walk out the door each morning.
But how does New Hampshire stack up against some of the coldest places on Earth? Should we really be complaining? The answer is yes.
Here are eight surprising places (as of 3 p.m. Wednesday) that will be warmer than New Hampshire over the next week, according to weather.com:
Base Jubany, Antarctica - expected low: 26 degrees (F)
Surely if you found yourself sitting outside a base camp at night on the coldest continent on Earth, you would be better off home in New Hampshire, right? Wrong.
You could be on Antarctica playing with penguins this week, and you would still be warmer than you will be when you're trying to warm up your car in the morning.
Hell, Norway - expected low: 20 degrees (F)
Known as one of the coldest places in the world, it will indeed be a cold day in Hell. Too bad it will be much colder in New Hampshire.
Let that sink in.
Lhasa, Tibet, China - expected low: 18 degrees (F)
With a winter that lasts from October through June, taking a vacation to Tibet's largest city this time of year would be considered foolhardy.
Tibet is known as one of the harshest places for human life. It's cool in summer and ridiculous in winter. Unfortunately, anyone who booked a trip for this week will be laughing at us back home as they enjoy temperatures about 30 degrees warmer than here.
Reykjavik, Iceland - expected low: 19 degrees (F)
Even the capital of a country named after ice is going to be significantly warmer than New Hampshire this week.
It may be called Iceland, but at least ice-melt will work on their driveways overnight. We can't guarantee the same here.
PyeongChang, South Korea - expected low: 10 degrees (F)
In just over a month, the world will turn its eyes to PyeongChang to take in the next Winter Olympics. If you'd like to get yourself in the mood this week, feel free to practice your speed-skating on all the parking lots throughout New Hampshire that are sure to be frozen solid.
Nuuk, Greenland - expected low: 5 degrees (F)
Most people know that despite their names, Greenland is actually a lot colder than Iceland. Greenland is basically a frozen wasteland. But we're not even trying to hear that, because Greenland's capital city is not going to get as cold as we are this week.
Novosibirsk, Siberia, Russia - expected low: -10 degrees (F)
Siberia is a region whose name is synonymous with "punishment."
It is known as the place where they send traitors, spies - and expendable characters on "The Americans" - to freeze through the rest of their miserable existence.
Yet in Siberia's largest city, they will still be doing better than New Hampshire this week.
Barrow, Alaska - expected low: -10 degrees (F)
Barrow, Alaska is the northernmost public community in the U.S. It sits above the arctic circle and is currently in the middle of a two month stretch where the sun will not rise at all. Nonetheless, it will not get as cold in Barrow as it will be in New Hampshire this week.
Bonus - Oymyakon, Russia - expected low: -46 degrees (F)
As we freeze through the end of 2017 and trudge into the new year, it's good to remember that it could always be worse.
Winter temperatures in Oymyakon, Russia, average -58 (F). Oymyakon is a small village that is widely considered the coldest inhabited place on Earth. It's a cool two-day drive from the nearest city, Yakutsk, which has the lowest temperatures of any city on the planet.
See? There's always a bright side.