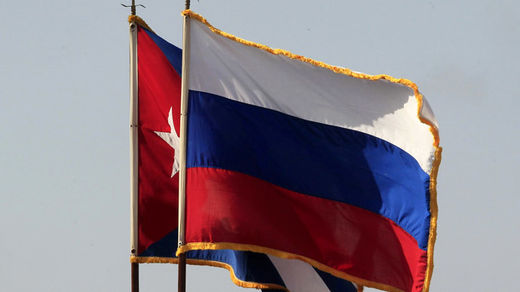 On December 8, a group of Moscow university students attacked a classmate and forced him to apologize on camera for comments he published on social media
Oleg Tereshchenko (who uses the online pseudonym Alexey Knyazev) told
Meduza
that he left campus on the afternoon of December 8. The 18-year-old management student at the Russian Presidential Academy of National Economy and Public Administration (RANEPA) says he then ran into his classmate, Rashid Khamokhoev. Tereshchenko says the two had never spoken in person before, but they had interacted online, where they'd discussed various Muslim traditions. The two young men peacefully continued this conversation, while walking off campus, until they encountered another five students from RANEPA (Tereshchenko isn't naming them publicly, and they have yet to name themselves). The group then forced Tereshchenko to apologize for his comments about Islam on the Vkontakte student community "
Love and Hate at RANEPA
." In particular, they ordered him to apologize for his comments in a discussion about families in the North Caucasus forbidding their girls from dating Russian men. Tereshchenko had written that Russian federal laws do not allow such restrictions on individuals' freedom. The group of men recorded his apology on their smartphones.
The men punched Tereshchenko and threatened to kill him
The video of Tereshchenko's beating and confession, which the assailants themselves uploaded to the Internet, has spread virally on Russian social media.
MDK
, one of the most popular public communities on Vkontakte, also
shared
the video, attracting more than 1.6 million views.
In the video, Tereshchenko apologizes for his supposed "insults," but his attackers repeatedly tell him that he needs to repeat the apology "sincerely and from the heart," without a "mocking tone." Several times, the men punch him in the head, threatening to "kill him right now." By the end of the video, Tereshchenko is forced to apologize to all Muslims, Christians, "people of all nationalities and confessions," to the university, to all women "of Caucasian nationality," and simply "all women." The men also tell Tereshchenko that they'll come for him again, if he ever returns to the "Love and Hate" Vkontakte community.
Tereshchenko has been getting threats on social media for a long time
Tereshchenko told
Meduza
that he's spent that past several months arguing almost constantly with other students in the "Love and Hate at RANEPA" Vkontakte group, where he's criticized various religions and many of the traditions and gender inequalities they perpetuate. Comments like these have regularly enraged other members of the Vkontakte group, who have repeatedly written in the community that Tereshchenko might end up "paying" for his remarks about Islam. Some classmates have even said
directly
that they might beat him up for sharing his views about their faith. "The discussion about young women wasn't the main thing," Tereshchenko told
Meduza
. "The main trigger was, perhaps, the very fact of disrespect for their traditions, inequality, and at times violence."
Police and federal investigators are reviewing the attack
Tereshchenko first reported the attack to the university's dean, identifying his assailants by their social media accounts. Nurses recorded that he had "a swollen ear and reddened cheeks." Then he filed a police report. Within a day, the Russian news media was
reporting
that Tereshchenko claims all his assailants appeared to be from the North Caucasus. He told
Meduza
, however, that he couldn't determine the ethnicity of all his attackers, though he's sure some of them were indeed from Russia's predominantly Muslim North Caucasus. Rustam Tapaev, the chairman of the Chechen Youth Union, has gotten involved in the case, and he told
Meduza
that the group of attackers includes one Chechen man, as well as Azerbaijanis, Russians, and other ethnicities.
Police are investigating the incident, and the Moscow office of Russia's Federal Investigative Committee
announced
on December 10 that it's opened a preliminary investigation. Officers have already questioned Tereshchenko, who says he hopes his attackers "get what they deserve." He says they ought to be expelled from the university. Spokespeople for RANEPA would not comment on the issue, when contacted by
Meduza
.
The attackers have released a response video where they "apologize" for their actions
On the evening of December 10, in the same Vkontakte community where this whole conflict began, a 56-second
video
appeared showing all six attackers, accompanied by their lawyer, Movsar Gatagazhev, who tells viewers that Tereshchenko "poses as the victim of pressure from North Caucasians and Muslims," despite the fact that he spent the past six weeks online "maligning" Russians, Muslims, Christians, the nobility (Tereshchenko has said dueling was idiotic), and "all Russian society." In the video, Gatagazhev says the students didn't intend to attack Tereshchenko, and only wanted to "conduct a dialogue," before they ended up "misbehaving a little." The lawyer insists that all six young men will apologize to Tereshchenko and denies that any crime has taken place.
Speaking to
Meduza
, Gatagazhev said that investigators have yet to interrogate his clients. RANEPA, he said, is conducting its own internal investigation. "The situation has been presented in a very lopsided way. Among [the attackers] there were people from four or five different nationalities, including Russians. These are just students from the same university. Of course, my clients in their youth failed to control their emotions and misbehaved a little bit, but there was no ethnic component here. You could say they were just discussing philosophical issues. It was an ordinary student conversation - an outgrowth of online correspondence," the lawyer said, explaining that his clients are ready to apologize.
Tereshchenko told
Meduza
that he's not interested in his attackers' apologies. "They ganged up and attacked me, and now they want me to show magnanimity," he said.