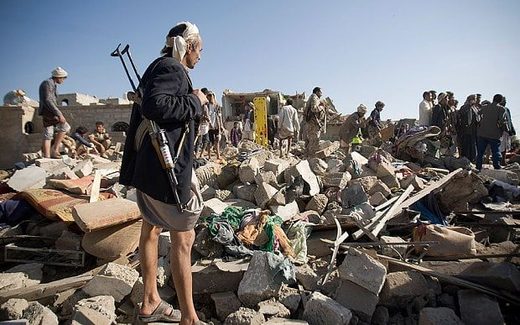 Donald Trump made an unexpected move by calling on his partner, Saudi Arabia, to end the blockade on Yemen that has endangered millions and is placing the Arab country on the brink of starvation.
In a rare divergence from Saudi Arabia, U.S. President Donald Trump called on the kingdom to end its blockade on Yemen, citing human rights.
The blockade in Yemen that has accompanied the Saudi-led coalition's intervention in Yemen's war has restricted access to food and medical supplies.
According to reports, two out of three Yemenis face the risk of starvation while many more are suffering from cholera, rabies, bacterial infections, and other preventable diseases.
Trump's official statement urged U.S. officials "to call the leadership of the Kingdom of Saudi Arabia to request that they completely allow food, fuel, water, and medicine to reach the Yemeni people who desperately need it."
"This must be done for humanitarian reasons immediately," the statement added.
Saudi Arabia has been accused of committing war crimes and crimes against humanity by human rights organizations for their indiscriminate bombing runs, siege tactics, and the nationwide blockade.
The intervention in Yemen has been led by Saudi Crown Prince Mohammed Bin Salman, who has otherwise received praise from Trump and the U.S. media for his progressive reforms that have included allowing women the right to drive a vehicle and diminishing the role of Saudi Arabia's religious police.
Yemen has been described by observers as "worse than Syria" while the UN has christened it the most pressing humanitarian crisis in the world.
Saudi Arabia entered Yemen to reinstall the former president Abdrabbuh Mansur Hadi, a Saudi-friendly head of state, and quell the popular Houthi rebellion that has sought to overthrow Hadi.
In turn the Houthi movement sees president Hadi as a Saudi puppet, favoring national liberation instead.
The intervention, which began in early 2015, has resulted in thousands of deaths. Current estimates suggest that as many as 14,000 people have been killed or wounded, overwhelmingly attributed to the coalition's airstrikes.
Yemen, the poorest country in the Middle East that imports a vast majority of its food and medical supplies, has reported 1 million cases of cholera and is on the brink of starvation. Millions more have fled the violence internally.
The U.S. and its allies have played a major role in Yemen by assisting Saudi aircraft in refueling, providing intelligence, and selling billions in arms and military equipment.
In May, Trump signed a $110 billion arms deal with Saudi Arabia that included military equipment to be deployed in Yemen.