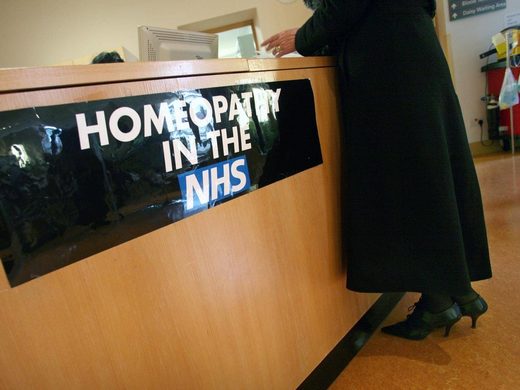 Homeopathy and herbal remedies are among seven treatments which NHS bosses have told Jeremy Hunt to officially "blacklist" from prescriptions because of a lack of evidence about their effectiveness.
GPs will be asked not to prescribe them any more and to take patients off these treatments if they're currently being prescribed on the NHS.
The Health Secretary has previously been forced to defend his position on homeopathy after he signed an early day motion in support of the treatments on the NHS in 2007.
He subsequently clarified he did this
on behalf of a constituent while still a "young MP"
, but as Health Secretary he "follows the evidence" on what works.
In the
British Medical Association
and Royal Pharmaceutical Society's responses to NHS England's report on low-value treatments, both organisations said homeopathy should be blacklisted.
The National Institute for Health and Care Excellence also said multiple reviews had "showed no evidence of the effectiveness of homeopathy".

Comment: To understand homeopathy is to understand why the 'gold-standard' placebo controlled double-blind studies are not appropriate for testing its effectiveness. Because homeopathic remedies are highly subject to the state of the individual patient, no one remedy can be prescribed for everyone showing similar symptoms. But when the right remedy is selected, based on the individual, homeopathy is highly effective. This subtlety is something mainstream medical science will likely never understand. See:
The NHS only spends around £100,000 a year on homeopathic remedies, comparatively it spends £6.3m on omega-3 supplements which can be obtained from food.
But the report says despite these "marginal costs" clinical evidence should take priority over anecdotal reports from patients who say it helps them.
It is joined on the proposed blacklist by herbal remedies, muscle rubs and dietary supplements which also have limited evidence.
While it is suggested painkiller co-proxamol should be blacklisted because of safety concerns.
The NHS England board began a consultation on 18 treatments of
low effectiveness in July
and concluded its findings today saying blacklisting these treatments and restricting 11 will save up to £141m a year.
The report from the board says: "In relation to a number of drugs, the consultation feedback included requests that the particular drug should be formally placed on the 'blacklist'."
"This is not a matter for NHS England, but rather one for the Secretary of State to consider."
The treatments proposed for blacklisting are:
Co-proxamol
Joint supplements glucosamine and chondroitin
Herbal treatments
Homeopathy
Lutein and antioxidants, supplements for sight degeneration
Omega-3 fatty acid supplements
Rubefacients used to relieve muscle pain

Comment: So other than co-proxamol and over the counter reubefacients everything being blacklisted is a natural remedy. To cite lack of evidence on any of the above is absolute nonsense - do a PubMed search on lutein, omega-3 or any number of herbal treatments (like curcumin, astragalus or silymarin, for example) and you'll find clinical evidence out the wazoo! If the NHS isn't finding the evidence it's because they're not looking for it.


Recommendations on the other treatments mean they should not be routinely prescribed, but NHS England national medical director Professor Sir Bruce Keogh said that the recommendations are "not a ban, as in medicine it is dangerous to say never".
But it will mean treatments should only be prescribed free where they meet stated exemptions, such as for individuals with a learning difficulty or dementia who cannot purchase medications over the counter, or where over-the-counter products have been unsuccessful.
GPs issue more than a billion items on prescription each year, which cost £9.2bn in 2015-16, and some of these medicines, such as paracetamol and cough syrups, can be bought much more cheaply over the counter.
​NHS England expects to run a further consultation in the new year on 36 conditions with effective over-the-counter treatments which should also not be prescribed, this could save a further £190m each year.
NHS England chief executive Simon Stevens said: "The NHS is one of the most efficient health services in the world but we're determined to make taxpayers' money go further. The NHS should not be paying for low-value treatments and it's right that we look at reducing prescriptions for medicines that patients can buy for a fraction of the price the NHS pays."
Groups opposed to the NHS funding of homeopathy welcomed the news saying it would save money for patients, and make clear that homeopathy is no more than "sugar pills".
Humanists UK director of public affairs and policy, Richy Thompson said: "We're delighted that decision-makers at NHS England have looked at the evidence on this issue and made a clear decision. This means that more funds will now be available for patients who need genuine treatment and support from their GPs."
GP leaders said the focus on evidence and self-care was absolutely correct, but GPs still have a duty to fund treatments where they see them as clinically necessary
Dr Andrew Green, GP prescribing lead for the British Medical Association, said: "Where drugs are dangerous or
shown to be ineffective
it is absolutely right that they are blacklisted and shouldn't be recommended for use. Any treatment on the NHS needs to demonstrate it is safe and provides clinical benefits to the patient."

Comment: The key here is "shown to be ineffective". Homeopathy has never been shown to be ineffective, Big Science has just never been able to figure out how it works while at the same time staying within the warn comfort of their materialist ideology. The common claim against homeopathy is that it can't work because it contradicts the dogma firmly laid down by materialist science, not that it doesn't work. It's actually the opposite of true science - rather than investigate contradictory evidence, as any true scientist should, it gets explained away by the convenient "placebo effect".


But he added the BMA has concerns "about the cost implications for vulnerable people" of changes to require more medicines to be bought over the counter.
Dr Helen Beaumont president of the Faculty of Homeopathy, which represents doctors using homeopathic treatments, including some in the NHS, said: "NHS England's decision makes no clinical or economic sense.
"Patients currently receiving homeopathic medicine will now be prescribed more costly drugs, which is counter to NHS England's objective of reducing prescribing costs."