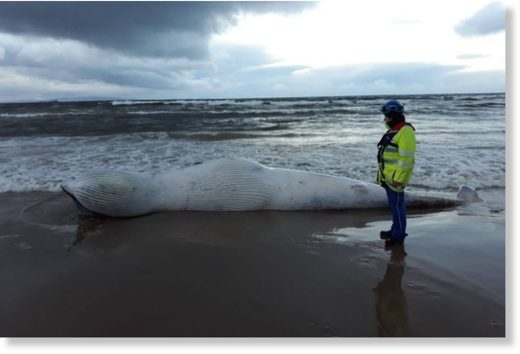 Those out for a stroll along the Causeway coast yesterday afternoon were in for a shock, after a six-metre long whale washed up on the beach.
A member of the public reported the sighting to the Coleraine Coastguard on Friday afternoon at Runkerry Strand, near the town of Portballintrae.
Personnel from the coastguard investigated the sighting and unfortunately, on arrival, the animal was already dead.
The whale carcass will now be examined by the Environment Agency before it is removed by the council.
There are unconfirmed reports that the mammal may be a Minke Whale.
A spokesperson form Coleraine Coastguard said: "On Friday 24th November, Coleraine Coastguard personnel investigated a report of a beached whale at Runkerry Strand.
"On arrival, it was discovered that the animal was already dead. Removal would be organised by the council after the EA have finished their work."
This is not the first time a whale has washed up on Northern Ireland's coast in recent years.
In October 2015, a 30ft whale was found on Portstewart Strand and in July last year, the carcass of 26ft-long minke whale has washed ashore on rocks at St John's Point in Co Down.
Earlier this month, a rare fin whale washed up on a beach on Arranmore Island, Co Donegal.
Fin whales are listed as endangered by the International Union for Conservation of Nature (IUCN).