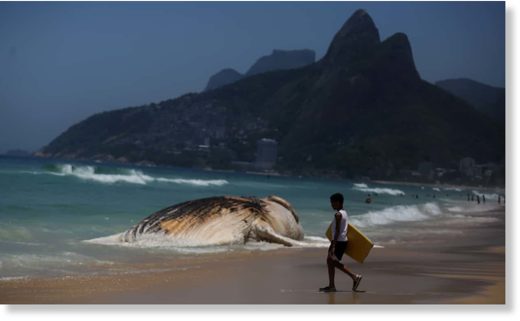 A huge dead whale has washed up on a beach in Brazil as authorities warn holidaymakers to stay away from the decomposing animal.
The 30-tonne whale is thought to have been dead for at least a week, before it arrived on Ipanema beach in Rio de Janeiro.
The dead whale is releasing a bad smell and people have been warned to stay back.
The animal's jaw has come away from the rest of its body and is due to be removed for further investigation in the next dew days.
The whale is estimated to be between 42 feet (13 meters) to 49 feet (15 meters) long.
Authorities are working with biologists from the University of Rio de Janeiro, to determine what happened to the whale and arrangements were made for a necropsy, the animal equivalent to an autopsy.
Biologists took a sample from the whale's blubber.
Authorities will remove the whale with the help of a bulldozer.
It will then be taken to Rio's main port and then to the rubbish dump in Seropedica.
By mid-morning on Wednesday, police had created a security perimeter around the whale and were urging curious locals to keep their distance.