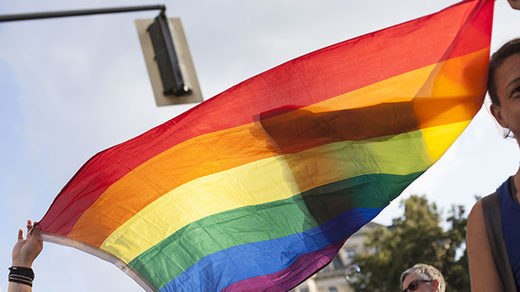 Drag queens are being brought into nursery schools for storytelling sessions to teach children from the age of two about issues such as gender fluidity.
Bristol-based organisation Drag Queen Story Time (DQST) runs reading sessions with 'queer role models' for young children in schools, libraries and hospitals.
Launched by Bristol University Law graduate Thomas Canham,
the project aims to teach children about transgender issues through storytelling, in addition to misogyny, homophobia and racism.
The 26-year-old was inspired to set up the project after learning about a similar scheme in the US named Drag Queen Story Hour.
Nursery bosses said the sessions are needed so that children encounter people "who defy rigid gender restrictions", according to the
Mail on Sunday
.
They reportedly want to target two and three-year-olds in order to influence them early against hate crime.
Children this age have not yet developed any discriminatory 'isms', it was suggested.
But critics told the
Mail
that the sessions
could "blind impressionable children of two and three to one of the most basic facts of human existence".
Child psychotherapist Dilys Daws, co-author of the book
Finding Your Way With Your Baby
, feared
the sessions could confuse young children about their own sexual identity
.
She said: "There's this idea that's sweeping the country that being transgender is an 'ordinary situation'.
"It's getting so much publicity that it's getting children thinking that they might be transgender,
when it otherwise wouldn't have occurred to them
.
"But it's perfectly normal for most young children to think about being the opposite sex. It's probably because they are identifying with a parent or sibling."
DQST will hold sessions at seven nurseries run by the London Early Years Foundation (LEYF) over the winter, the newspaper reported.
If successful they are apparently due to be rolled out across the nursery's 37 sites.
Sessions for the project, which started in May, include drag queens reading books on a wide range of issues, in addition to activities such as face painting or 'drag discos'.
Drag queens available include Donna La Mode, who is described as "the Fairy Queen of the drag world".
June O'Sullivan, chief executive of LEYF, told the
Mail
: "By providing spaces in which children are able to see people who defy rigid gender restrictions, it allows them to imagine the world in which people can present [themselves] as they wish."
She told BBC London radio it was good to expose very young children to men who dress as women, "because children are very open until about three".
"At three they begin to absorb all the "isms" that adults have developed very effectively," she explained.