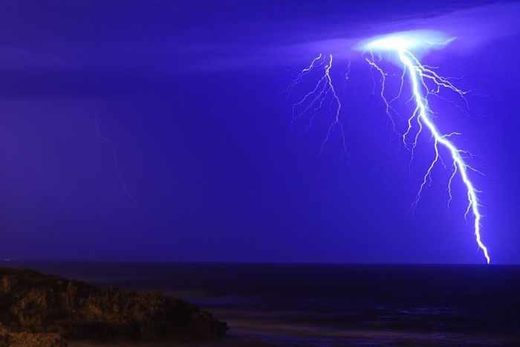 Western Australia's south was treated to an evening show of light, sound and fury as a series of thunderstorms passed over the southern half of the state, producing hail, lightning and power blackouts.
The most severe storm hit Meadow Springs in Mandurah, south of Perth, about 5:30pm on Sunday.
Duty forecaster at the Bureau of Meteorology James Ashley said a hot air mass combined with moisture in the atmosphere produced the stormy conditions.
"Everything in the atmosphere lined up perfectly," he said.
"We had a good upper-level disturbance move over the area and there was just enough moisture and lift to produce some really decent thunderstorms.
"They weren't that widespread. They were confined to the [Perth] metropolitan area and down to Mandurah and most of the lightning strikes were actually off the coast."
The system dumped hail and caused poletop fires on the Western Power network.
Western Power crews worked throughout the night to repair the damage.
The State Emergency Service said it received 29 calls for help with most calls confined to a small area of Meadow Springs.
Lightning strikes also blacked out 7,000 homes in the eastern Wheatbelt, mostly around Cunderdin and Merredin.
A storm off Swanbourne remained at sea for most of the night and weakened significantly before it crossed the coast.
Swanbourne only recorded 1.2mm of rain.