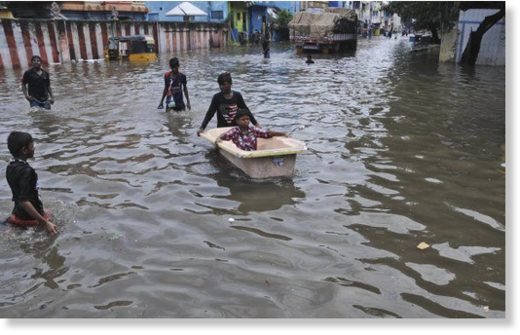 Heavy monsoonal rain in India has amounted to more than 450 mm (18 inches) in Chennai and claimed 12 lives since the beginning of last week.
With the northeast monsoon in full swing, drenching rain and thunderstorms have caused flooding throughout much of southeast India.
Residents in low-lying areas trudged through floodwaters that ranged from knee- to waist-deep heights.
Officials were forced to keep schools closed for several days last week, according to
FirstPost.
Karaikal has also been inundated with more than 450 mm (18 inches) of rain since last Monday.
The death toll from incidents related to flooding and heavy rain in Tamil Nadu has risen to 12,
according to the Associated Press.
Flooding, lightning strikes and collapsed walls have been responsible for the deaths.
Following more than a week of flooding downpours, conditions will begin to improve during the middle of the week.
Showers and thunderstorms will lessen and be confined to far southern India during this time.
From Friday into the weekend, a push of drier air from the north will suppress the rainfall, bringing some much-needed relief to the region.
Despite the break in widespread downpours,
rivers will remain high for several days and any additional rainfall can result in flooding problems in the hardest-hit areas.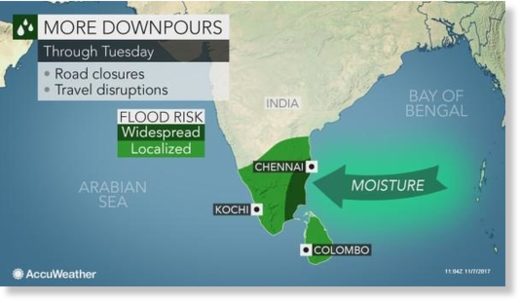 However, AccuWeather meteorologists will be keeping a close eye on the Bay of Bengal as a tropical cyclone may attempt to develop at that time. Depending on the track of this potential cyclone, heavy rainfall may return to southern India next week.
"Despite the immediate hazards to lives and property, the northeast monsoon is vital to parts of Andhra Pradesh, Tamil Nadu and Puducherry, where roughly 50 percent of the yearly rain falls from late October into December each year," AccuWeather Senior Meteorologist Eric Leister said.
"A weak monsoon can result in water shortages and poor crops the following year, while incessant rain can result in deadly flooding," he said.