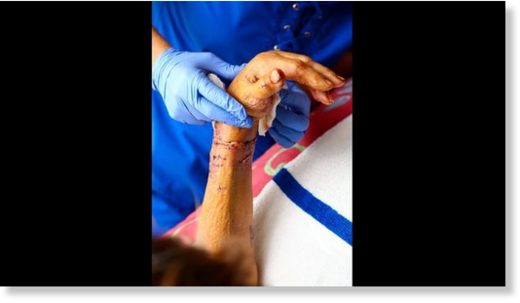 A 60-year-old Palm Beach Gardens woman nearly lost her left hand Oct. 23 after being bitten by a shark near MacArthur Beach State Park in North Palm Beach.
Susan Peteka, a former emergency room nurse, was on her daily swim around 8 a.m. when she felt a "swipe" and then realized that "blood and body tissue were flying out of me."
Peteka managed to reach the shore, but no one was on the beach. Bleeding profusely and becoming light-headed, Peteka's cries alerted the resident of a beach-side condo. The man wrapped a towel above the wound and called 9-1-1.
"I just started screaming, 'Help me, I'm going to die,'" Peteka said.
Peteka survived the encounter, but doctors have warned her recovery process will be extended. Included in the injuries to her left hand and wrist are 20 torn tendons and ligaments, a severed artery, two fractured bones and nerve damage. A piece of shark tooth was recovered embedded in Peteka's wrist.
"Her injuries are a life-changer," said Dr. Thomas Saylor, an orthopedic hand surgeon at St. Mary's Medical Center who treated Peteka.
Peteka was one of two people bitten by sharks in the ocean off Palm Beach County on Oct. 23.
That afternoon, 17-year-old Jason Hartl was bitten in the foot by a shark while surfing near the Juno Beach pier and needed more than 50 stitches to close the wound.
Hartl speculated that a blacktip shark scavenging for bait near the pier sank its teeth into his foot. Peteka said she didn't have any idea what type of shark mangled her hand.
"This one was gunning for me," Peteka said of the attack.
George Burgess, director emeritus for the University of Florida's Program for Shark Research, said two shark encounters in the same day and in the same area "is not unusual for this time of year."
Burgess said that fish normally found in inland waters make their way out to the ocean late in the year to find warmer water and to spawn.
"Sharks aren't dummies," Burgess said. "They go where the food is."
Unprovoked attacks by sharks are exceedingly uncommon, Burgess said. In 2016, there were 84 unprovoked attacks worldwide and four fatalities. Considering the number of people who use the ocean around the world, the chance of getting bit by a shark are nearly infinitesimal, Burgess said.
Started out as normal day
Peteka said she was nearing the end of her daily swim when the shark bit her while her left arm was in mid-stroke.
Despite the feelings of horror and the extent of her injuries — Peteka estimates she lost two liters of blood — she managed to keep her composure and reach land.
"I knew I had to get to shore quick or I would have been dead," she said. "You have superhuman strength that you don't know you had until something like that happens to you. It's a primal thing. You just do it."
Saylor, who has treated shark bites for 20 years, said Peteka's hand was "shredded." Most sharks bite and immediately release their human victims, but the one that attacked Peteka appeared t0 clamp down on her wrist then shook its jaws from side to side in a thrashing motion, Saylor said.
"Her bite wounds are pretty traumatic," Saylor said. "It's a devastating injury."
Peteka said she's been advised her recuperation could last 18 months. It will be at least that long before she ventures back into the ocean.
"It's going to keep me out of the water," Peteka said. "I love swimming with a passion. But now, I can't look at it. I can't think about it. I don't know that I can ever go back again."
Source: The Palm Beach Post