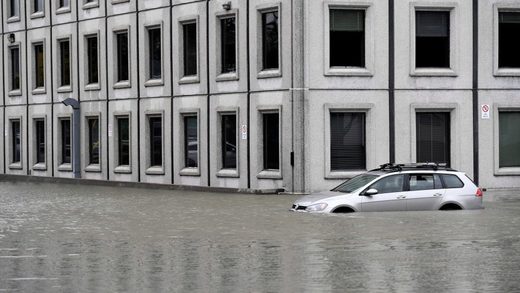 Record-breaking rainfall in Ottawa on Monday flooded homes and forced Prime Minister Justin Trudeau to take an ATV for part of his commute.
Trudeau had to take a John Deere Gator ATV through washed-out back roads from his Harrington Lake residence in the Gatineau Hills to meet his motorcade on drier land before continuing to downtown Ottawa Monday morning, his office confirmed. The property is approximately 26 km from Parliament Hill.
Floodwaters rose so high inside the Pebb Building off Bank St. that frefighters had to carry one trapped woman to safety.
At least 175 homes were flooded, according to the city.
Among the unlucky ones was south Ottawa resident Donovan Thompson, who said he woke up around 5 a.m. to find his couch floating in his living room.
Thompson managed to escape with his newborn baby girl, but his rented home is badly damaged and so are many of the cars that he fixes up and sells for a living.
"It's pretty devastating," he said.
More than 50 mm of rain fell in just six hours Monday morning, setting a new one-day record, Environment Canada reports
.
Environment Canada's Peter Kimbell said 2017 is already the wettest year on record in the capital with more than 1,200 mm of precipitation, compared to 943 mm on average.
"We still have November and December to go," Kimbell added. "It's not over yet."
Hydro Ottawa said the high winds and downed power lines caused more than 9,000 to lose electricity across the city. Power was being gradually restored throughout the day.
The Ottawa-Carleton District School Board was forced to close several schools and many offices were also closed.
Ottawa police closed several streets due to flooding and some traffic lights were out.
Tow-truck driver Ali Awada said he received call after call. Not only were cars partially submerged by the water, but the storm had knocked trees onto vehicles.
As of dinnertime Monday, the rain continued to fall.
Environment Canada is forecasting more rain later in the week.