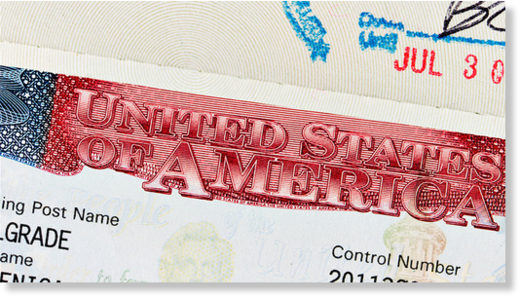 The departments of State and Justice have agreed to share information about employers discriminating against American workers and misusing foreign worker visas.
It is the latest effort by the Trump administration to crack down on immigration abuses.
"Employers that discriminate against qualified US workers by favoring foreign visa workers will be held accountable," said Acting Assistant Attorney General John M. Core of the DOJ civil rights division,
announcing
the sharing agreement on Wednesday. "Today's agreement reflects the Civil Rights Division's commitment to use all available tools, including collaboration with other federal agencies, to protect US workers from discrimination."
Under the memorandum of understanding, the departments will give increased scrutiny to H-1B, H-2A and H-2B visas.
The H-1B, a temporary visa that lasts three to six years, allows American companies to hire foreign workers with specialty skills, such as science, technology, engineering and math. Under the current program, visas are allocated by a lottery system, with Congress capping the number of visas that can be issued at 65,000 a year. The cap for H-1B visas for those studying for an advanced degree is 20,000.
In April, the US Citizenship and Immigration Service said that the 85,000 ceiling for new visas for fiscal year 2018 had been exceeded. This is the fifth consecutive year in which demand has outstripped supply, just four days after the application process opened, according to
The Washington Diplomat
.
US companies, particularly the Silicon Valley tech giants, argue the visas are critical to keeping America at the forefront of global innovation and entrepreneurship. Companies like Google and Facebook argue there is a shortage of IT workers in the US, with over half a million unfilled IT jobs in sectors like cybersecurity, coding and data analytics.
Critics, however, argue that the companies undercut American workers by using the visas to recruit low-wage foreign labor to boost profits. President Donald Trump appears to agree with this position.
A Pew Research Center analysis suggest that the issue is more nuanced, with H-1B visas applicants earning a median salary that was higher than some US workers in similar high-skill occupations. The study showed US employees planned to pay high-skilled foreign workers with H-1B visas a median annual salary of $80,000 in fiscal year 2016, up from about $69,000 a decade earlier.
US Attorney General Jeff Sessions has long been concerned about possible misuse of the visa programs by companies and made it a big issue during his time in the US Senate.
Early this year, the DOJ announced that a Louisiana company paid out more than $100,000 as part of a settlement to a group of American workers who were passed over for jobs so foreign nationals could be hired in their place through a work visa program.
Last month, the DOJ filed a lawsuit against an agricultural company based in Loveland, Colorado for allegedly discriminating against US technicians in favor of H-2A foreign workers.
The DOJ complaint, filed against Crop Production, said the company required American workers to meet more burdensome requirements ‒ including drug tests and background checks ‒ in order to discourage them from working at its Texas-based facility. The foreign workers hired under the visa program were allowed to start before completing the checks, and in some cases never completed them at all.
All 15 seasonal jobs available at the facility in 2016 went to foreign workers, the complaint said.
A
federal survey in August
found that, while there is a rising number of job openings for well-paid blue-collar work across the US, employers are having trouble finding workers who can pass the drug tests required to get hired and keep the jobs.