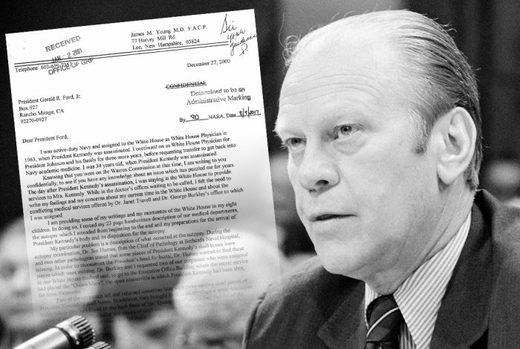 Today, a majority of Americans assume the government lied about the assassination of President John F. Kennedy. New evidence seems to prove they are right.
This is the story of a bullet - a spent, misshapen, but otherwise intact, bullet - that James Young, a Navy doctor, said was found late at night, on the floor, in the back of Kennedy's limousine. He inspected it himself.
The bullet was
found by two chief petty officers who, during the autopsy, were sent to retrieve any skull fragments they could find in the limousine
. They came back with three pieces of bone, and the bullet.
The skull fragments were reported - but not the bullet.
Years later, when reviewing a memoir he wrote in 1963, Young thought about that bullet, and tried to find some mention of it in the Warren Commission Hearings.
To his dismay, he found nothing
. In 2000, he wrote to President Gerald Ford to ask him about it. After all, Ford had been on the Warren Commission. But Ford said he knew nothing about it either. In 2001, two Navy historians interviewed Young who gave them a highly detailed account of the events of November 22, 1963, some of which he witnessed personally. And he mentioned the bullet.
Recently, Dr. Randy Robertson, a board member of the Assassination Archives and Research Center (AARC) came upon Young's papers at a Navy website. This was an exciting discovery.
Continue reading on
WhoWhatWhy
.