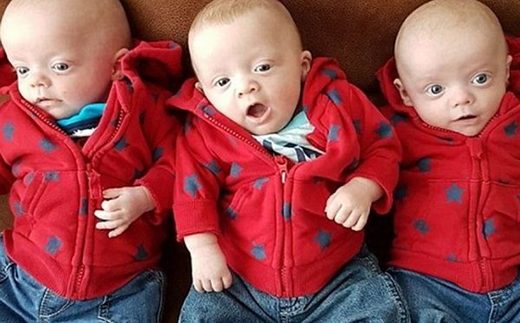 A young mother who found two of her baby triplets dead in their cot was later reportedly heard shouting "my babies, my babies" in the street outside her house, a neighbour said.
Sarah Owens, 29, discovered her five-month old triplets Charlie and Noah were not breathing when she checked on them in their cot at their home in Wildmill, Bridgend in South Wales.
Investigating police ruled out carbon monoxide poisoning as the potential cause of death in a possible gas leak in the tragedy where the babies' brother Ethan was unharmed.
A post-mortem examination is underway, including a test to see if Charlie and Noah died of Sudden Infant Death Syndrome.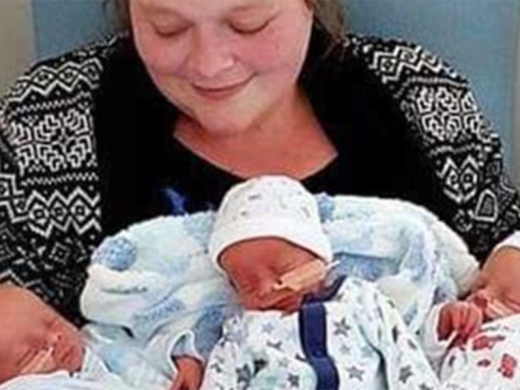 The triplets were treated in a neonatal intensive care unit after they were born prematurely in April but went home with Ms Owens when doctors said they had gained weight.
Emergency services rushed to Ms Owens' home after she reportedly found her two baby boys were not breathing when she went to check on them in their cot on Saturday morning.
Witnesses said that Sarah was seen out on the street wearing her pyjamas and holding Ethan when firefighters entered her house.
One neighbour, who was not named, told the
Daily Mirror
: "Sarah's a single mum and lives there with the triplets who were her pride and joy.
"She found Noah and Charlie dead when she got up on Saturday morning.
"The emergency services arrived and got her and Ethan out the house where she was screaming: "My babies, my babies."
Another neighbour at the scene when firefighters arrived believed the infants had been dead for hours.
Anne Way, 64, told the
Daily Mirror
: "She was totally distraught holding Ethan tightly to her chest.
"They wanted to take them both to hospital so I offered to take Ethan off her while she put her shoes on.
"But she shouted: 'Leave my baby,' - she was in a terrible state.
"I saw the firemen carrying the two babies to the ambulances - they were like wax.
"I've seen dead babies before from working in the hospital and they had been dead for hours."
Grandmother Jane Owens paid tribute to Noah and Charlie in a post on Facebook, the
Daily Mirror
reported.
She wrote: "Today I had hardest day ever to say goodbye to my most beautiful grandsons Noah and Charlie goodnight my darlings sleep tight till we meet again love u so much xxx."
Their godmother Siobahn Boyd set up an online
appeal
to raise money for the funeral expenses for the two baby boys. It had raised £6,640 of a £5,000 goal on crowdfunding page
gofundme.com
.
Detective Inspector Dean Taylor, in a report in the
Daily Mirror, said:
"There is nothing that leads us to believe that this was anything other than a tragic accident."
The police said its investigation was ongoing and an inquest was expected to be opened in the coming days.