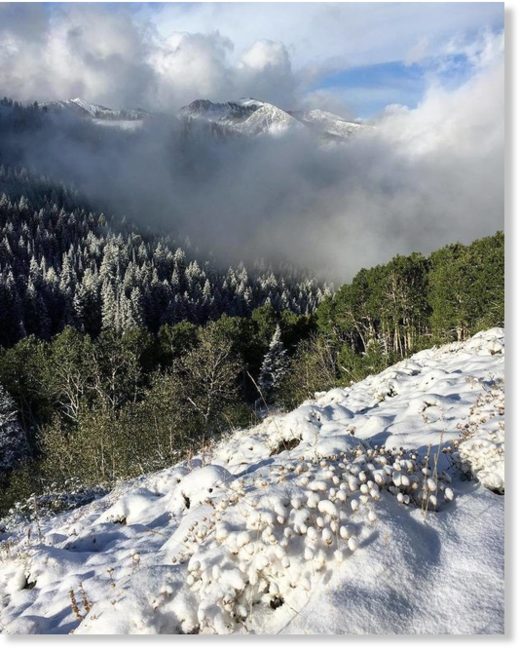 Early-season snow continued to fall around northern Utah,
with a few first-of-the-season road closures.
Utah Department of Transportation reported just after 10 a.m. Sunday that a gate had been closed on state Route 224, just past Park City Hall in Summit County. The gate would be opened as soon as crews could clear the area.
CLOSURE: the first seasonal gate at SR-224 in @SummitCountyUT due to heavy snowfall. Gate will reopen when crews are able to clear it.

— UDOT Region Two (@UDOTRegionTwo) September 24, 2017
Officials in Alta reported 8 inches of snow on the ground in some places. Snowplows were out in Little Cottonwood Canyon, and drivers should expect snowy roads, especially on state Route 210 in the canyon.
Winter driving conditions SR 210. Plows in canyon. Expect snowy roads. Current temperature 28 degrees. 8 inches new and snowing.

— Alta Central (@AltaCentral) September 24, 2017
Albion Basin Road, above Alta Ski Resort,
also was closed on Sunday morning.
Lots of snow in Little Cottonwood Canyon this morning near @AltaSkiArea. Officials reporting 8 inches in some places. #Utah #snow #utwx pic.twitter.com/8fJGbLQlin

— Jacob Klopfenstein (@JFKlopfenstein) September 24, 2017
Snow was on the ground Sunday morning in other places across northern Utah, including Bear Lake, Big Cottonwood Canyon and Parleys Canyon.
Current conditions in Logan Canyon. One inch of snow and fog. #logancanyon pic.twitter.com/X1byFn6e5A

— Bear Lake UT/ID (@Gobearlake) September 24, 2017
Just tiny #Deadpool enjoying some slow-mo snowfall #snow #deadpool2 #marvel #marvelcomics #Utah #travel pic.twitter.com/yaJPxPevz4

— Wade (@thetinydeadpool) September 24, 2017
Fresh snow in #bigcottonwoodcanyon #utah #solitudemountain #PureSolitude pic.twitter.com/uuyEp0g6ya

— Solitude Mtn Resort (@SolitudeMTN) September 22, 2017
The National Weather Service issued a Hazardous Winter warning on Sunday.
"Accumulating snow is expected to continue across the higher elevations of northern and central Utah through this evening. Significant accumulations are expected for portions of the Wasatch, Uintas and central Utah mountains, generally above 7,000 feet. Snow may also accumulate in some higher valleys, such as southwest Wyoming and the Wasatch Mountain valleys," the weather service reported.
KSL's meteorologists also warned of a winter weather advisory on Sunday, remaining in effect until Monday morning for the Wasatch Mountains from I-80 north. Between 4 to 8 inches of snow was expected in those areas. Motorists were cautioned to expected hazardous driving conditions.
The National Weather Service in Salt Lake City said several major highways in Utah would be affected by the weather, including I-15 near the Cove Fort area, I-80 near the Utah/Wyoming state line and at Parleys Summit and I-70 near the Clear Creek and Ivie Creek summits.
There may be snow on the road on U.S. Highway 89 near the Logan Summit and on U.S. Highway 40 near the Daniels Summit and Strawberry Reservoir, the weather service said.
State Route 150 near Bald Mountain Pass also could be affected by snow.
Favored higher elevations across the northern 2/3rds of the area should see 4-8" of snow through Sunday! 6500ft snow levels #utwx #utsnow pic.twitter.com/hGjk49tDCt

— NWS Salt Lake City (@NWSSaltLakeCity) September 23, 2017
Sunday's high temperature in Salt Lake City was predicted to be 49 degrees, with a low of 40 degrees, according to the KSL weather report. Monday's high is predicted to be 57 degrees, with a low of 40 degrees.
Contributing: Pat Reavy