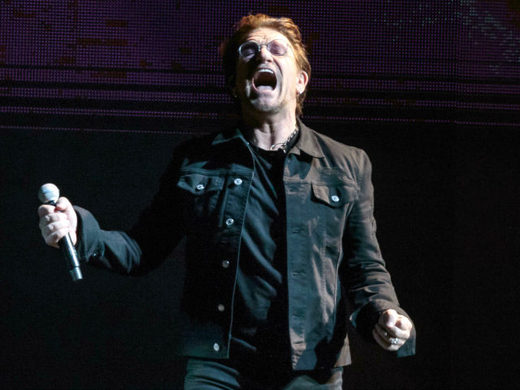 In January, U2 founding guitarist The Edge
revealed
that "Songs of Experience," the band's follow-up to its platinum-selling 2014 album "Songs of Innocence,
"
was delayed because of Trump's election. Now Bono says "there's a couple of reasons why we delayed
Songs of Experience
. One personal, one political."
"The world around us was certainly changing out of all recognition, we nearly lost the European Union, something that has helped keep the peace in our region for nearly 70 years," Bono
told
Rolling Stone
of the United Kingdom's vote last year for independence from the European Union. "Globalization replaced with localization is somewhat understandable, but the return of hard right views is not to be tolerated. If Marie La Pen had been elected president of France, the whole idea of a European Union would have been vulnerable."
"You've had the same sort of disaffection in the United States with the rise of a new kind of constituency, people on the both left and right who have lost faith in political process, the body politic, in political institutions," the Grammy-winner told the outlet. "These sentiments are easily played and manipulated by the likes of Donald Trump."
Bono said Trump's election marked, "for the first time in many years, maybe in our lifetime, the moral arc of the universe, as Dr. King used to call it, was not bending in the direction of fairness, equality and justice for all."
"The baseness of political debate, the jingoism, the atavistic fervor of Trump's verbiage reminded us that we were dreaming if we thought evolution applied to consciousness," the "With or Without You" singer
said
. "Democracy is a blip in history and it requires a lot of focus and concentration to keep it intact."
Bono said one new song from the upcoming album, "The Blackout," actually "started off its life about a more personal apocalypse, some events in my life that more than reminded me of my mortality but then segued into the political dystopia that we're heading towards now," the singer said. The song's lyrics, "Dinosaur, wonders why it still walks the earth. A meteor promises it's not going to hurt," Bono explained, "would have been a funny line about an aging rock star. It's a little less funny if we're talking about democracy and old certainties - like truth."
"The second verse," he said, 'Statues fall, democracy is flat on its back, Jack. We had it all and what we had is not coming back, Zac. A big mouth says the people they don't want to be free for free. The blackout, is this an extinction event we see?' goes straight to the bigger picture of what's at stake in the world right now."
Ultimately,
"
Songs of Experience," Bono said portrays his band's willingness to confront politics in general and President Trump specifically.
"It is a little bit of a departure as I've always believed in working across the aisle as an anti-poverty activist but this isn't a matter of right or left," he said. "There's a bully on the bully pulpit and silence is not an option."
U2 is currently on tour celebrating the 30th anniversary of their iconic 1987 album
Joshua Tree
. Bono
ripped
Trump's decision to rescind the DACA amnesty program on
The Tonight Show Starring Jimmy Fallon
earlier this month.
"It's a strange place we find ourselves in. It's dangerous out there when you have a little emperor there with a bad haircut and his finger on the nuclear arsenal. And a lot of people in silly costumes following me around. And then you have the dude from North Korea," Bono
said
about Trump and North Korean dictator Kim Jong-un.