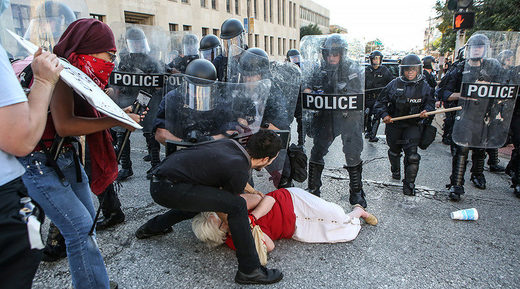 St. Louis riot police were filmed pushing and then walking over an older woman protester during demonstrations Friday.
Protests erupted in St. Louis Friday after police office Jason Stockley was acquitted of the 2011 killing of Anthony Smith, whom he shot five times following a high speed chase.
Demonstrators gathered in downtown St. Louis before later marching to the home of Mayor Lyda Krewson Friday night. The incident with the woman took place earlier in the day, when it was still bright out, at Tucker Boulevard and Clark Avenue intersection and was shared online by Fox affiliate KTVI.
The footage, taken from a Fox helicopter above, shows the woman in a red t-shirt and white skirt standing her ground as riot police approach her, not stopping when they reach her.
She walks backwards for a second, away from the approaching wall of officers, before stumbling when one appears to push her. After she falls to the ground, numerous riot police step over her as she lies prone. One of the officers appears to push a protester who is trying to help her.
The woman remains on the ground and is soon surrounded by police who pull her to her feet. Once standing, they pass her to another officer who handcuffs her.
Her name has not been released and it is not known if she faces any charges.
Later Friday, St. Louis police announced the protest was no longer considered peaceful, as demonstrators refused to leave the intersection. They used tear gas to disperse protesters.
Ten police officers were reportedly injured and at least 30 people were arrested.