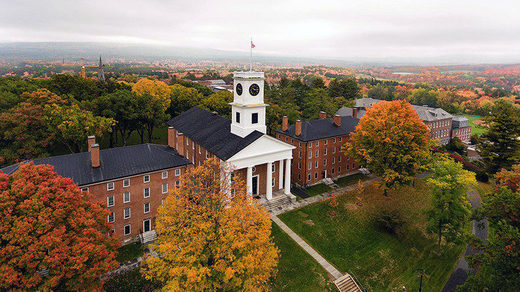 Amherst College has slammed a "deeply insensitive" anti-war banner which emerged on the 9/11 anniversary, while the institution remembered those killed in the attacks. However, the college says it will not be removed, falling under the right to free speech.
The banner - which was unfurled on Monday, the 16th anniversary of the 9/11 attacks - hangs in a prominent location, over the doorway of a campus dining hall.
"There is no flag large enough to cover the shame of killing innocent people," the banner reads, using a quote that is largely attributed to American historian Howard Zinn.
"In honor of those killed and displaced by America's so called 'war on terror'," reads a second quote.
Video link:
A spokesman for the liberal arts college, which is located in the Massachusetts city of Amherst, called the banner "deeply insensitive, especially on this particular day."
However, she said the banner will not be taken down because the university has an obligation to uphold the right to free speech.
"Free speech enables all citizens of this country to express their opinions, even if their views are expressed in a manner that might offend," said spokeswoman Caroline Hanna, as quoted by the
Boston Herald
. "Particularly as an institution that champions academic freedom and freedom of expression, the college has an obligation to uphold that right."
The sign's appearance came as Amherst College remembered some of its own graduates who lost their lives in the 9/11 attacks, including on the landing page of its website.
The aunt of one of those victims told the
Herald
that those behind the banner should have waited a day to unfurl it, out of respect.
"It's not necessary to put up that banner on September 11. They should have waited a day. They weren't thinking, there's no reason to do it," Madelyn Safronoff said.
"The banner also forgets all the guys fighting for them, fighting terrorism. It's not the day to do it. They didn't have to pick (yesterday) to do it," she added.
Meanwhile, a member of the conservative campus GOP club told the
Herald
that the group had hung its own banner inside the dining hall's lobby on the eve of the 9/11 anniversary, which read "Never Forget."
Responding to the banner hanging outside the dining hall, Republican student Brantley Mayers called it "profoundly disrespectful."
"We can have a discussion about the war on terror, but to me today is about remembrance and respect of those who died and served after 9/11... it's an upsetting politicization of a day where it shouldn't be that way," Mayers said.
Amherst College Democrats President Alexander Deatrick said he can understand the criticism, but claimed the banner was "more a comprehensive understanding of the tragedy of that day."
However, he said his group did not hang the banner and he was unaware of who did.