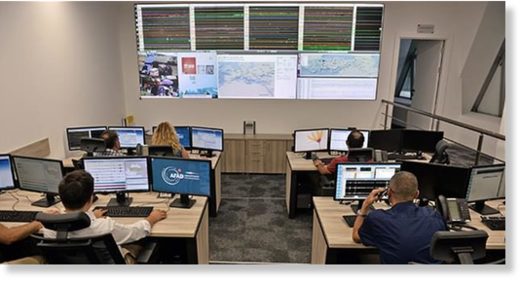 A total of 26,290 earthquakes have rocked Turkey over the first seven months of the year, marking the most seismic activity the country has experienced in 15 years, according to data from the Disaster and Emergency Management Authority (AFAD).
The earthquake distribution map at the AFAD earthquake department in the capital Ankara showed that the country's western regions had been particularly badly shaken by a series of earthquakes.
According to the map, a total of 20,143 earthquakes were recorded across Turkey last year, contrasting with the 26,290 earthquakes recorded between Jan. 1 and Aug. 16.
The quakes were particularly intensified in the Marmara and Aegean regions, which had an average of five earthquakes of varying sizes per day. The map revealed that earthquakes were most commonly observed in the Istanbul-Çanakkale-İzmir-Muğla fault line.
In terms of the magnitudes of 2017 quakes,
there were 135 tremors with a magnitude of between four and five, 13 with a magnitude of between five and six, and two with a magnitude of between six and seven.
Some 18,678 earthquakes had a magnitude of up to two, 6,469 quakes had a magnitude of between two and three, and 993 quakes had a magnitude of between three and four.
Next major Istanbul quake
According to analyses, an earthquake with a magnitude of seven or more is expected to shake the Istanbul region within 30 years of the deadly 1999 Marmara earthquake.
As 18 years have already passed since that quake, AFAD experts believe there is a 60 percent possibility that a major earthquake will shake the country's biggest city in the next 12 years.
The earthquake department is monitoring the fault motion in Marmara with an "early warning system," which issues a warning ahead of a possible shake.
Turkey and Germany are also conducting special joint work in the Marmara Sea ahead of the expected quake in Istanbul. AFAD and the German Research Centre for Geosciences (GFZ) have thus launched the first borehole seismometer project, dubbed "GONAF," which monitors the situation with the North Anatolian Fault on the Marmara Sea. The potential physical process before and after an expected Marmara quake is reportedly being observed through the Princes' Islands sections.
Accordingly, seven observation stations through the segment observe motion on the ground at a depth of 300 meters, with sensors placed 75 meters from each station recording even the slightest motion.
915 earthquake observation stations across the country
In 2015, the AFAD earthquake department became the only authorized institution in Turkey for revealing official data on earthquakes, as a part of an amendment to the earthquake data center system.
The department monitors ground motion with 915 observation stations across the country, constantly publishing analyses on its website.