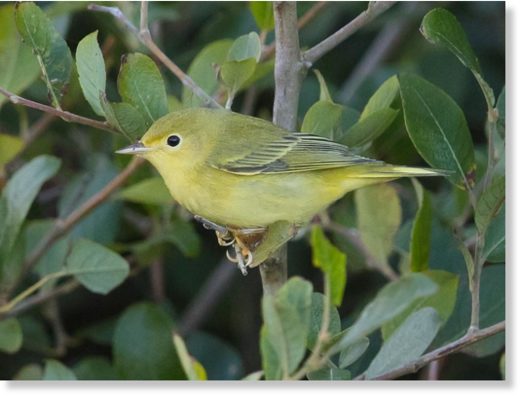 Hundreds of bird watchers have been flocking to Portland to catch a rare sighting of a transatlantic visitor.
Enthusiasts from all over the UK, including from the Midlands, South Wales and Yorkshire, have headed to Portland to try and spot the rare American Yellow Warbler
which is thought to have been carried across the Atlantic by Hurricane Gert. It is the first time the species has been spotted in England.
Martin Cade, warden of the Portland Bird Observatory, said that over the course of two days around four hundred people came to Portland for a piece of the action.
He said that on the first day people were "really excited", dumping their cars on the roadside and rushing to try and see the bird before dusk came - many of them having driven all day to get there.
The sighting was thought to be a unique occurrence, explaining why bird watchers were so enthused by it.
Mr Cade said: "It is the first there has ever been in England. There was a previous one on a Welsh island and four on a Scottish island."
He added: "It is a pretty exciting thing. Things like that do not come along very often."

The warden said the bird must have been brought across the Atlantic by the "dreg end" of Hurricane Gert.

It would have been flying down from North America to South America, where American Yellow Warblers stay for the winter.
A spokesman for the RSPB said that prior to this week there were only nine recorded sightings of the American Yellow Warbler in the UK, with none of them in England.
They also thought it was likely the bird had been picked up by the recent hurricane over the Atlantic while migrating south.
Mr Cade said the fact that it was the first ever sighting of the bird in Dorset and England made the occurrence particularly special.
He said: "When you get one of these freaky rarities it is the icing on the cake really."
He added: "It was totally unexpected and the thought it was in North America four days ago is quite amazing.
"The fact that it has pitched up in Portland is quite amazing."
Unfortunately, visitors who turned up the day after the sighting were left disappointed as the bird appeared to have flown off the island.
Mr Cade thought the bird looked very healthy considering it had flown for several days across the ocean, which he said might explain why it had already moved on.