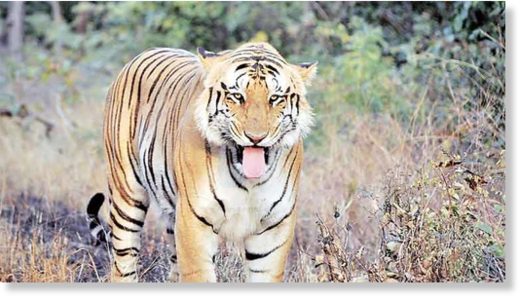 A 50-year-old farmer was killed by a tiger in Sungarhi area of Pilibhit on Thursday morning, becoming the seventh victim in the district in just over three months and the third in four days. Kunwar Sen, a resident of Behari village, was working at his cane field when he was attacked by a tiger at around 10 am, said Sungarhi SHO Mohammad Kasim.
He said Sen's 22-year-old son Girish was with him when the attack happened, but the tiger had fatally injured the farmer on his neck and then escaped.
Adarsh Kumar, Pilibhit Divisional Forest Officer (Social Forestry), said the spot where Sen was killed is about eight kilometres away from the place where another farmer, Shamsul Rahman Malik, was killed on Tuesday, and Mohammad Tasleem was killed on Monday.
"There is a possibility that this could have been done by the same tiger. We have formed six teams to track the tiger and they have been moving in the fields everyday to trace and tranquilise it. But their time is often wasted by villagers who insist they have seen the tiger in areas where the animal is not present. There is fear and anger among the people," he said.
Kumar said that though they had found that the pugmarks of the same tiger at the spots where Malik and Tasleem were found dead, they could not trace any pugmarks at Behari because it was raining and the area had been walked on by locals. "The administration and police officials have been telling people to be cautious while going to fields and avoid going alone or in the night. This tiger is a maneater now, but our priority is tranquilise it," he said.
Amaria station officer Madhav Singh Bisht said rumours were increasing with each death, and people were now claiming that there could be three or four stray tigers in the district.
Past victims of tiger attacks in the district are: Nanki Devi, an elderly resident of Methi village in Niuria area, who was killed on July 1, Mihilal, who was mauled to death when he was collecting grass from a sugarcane field on June 20, Keval Prasad, a farmer, who was also killed by a tiger on the fringes of the forest area on June 16, and forest watcher Tara Chandra, who was killed by a tiger in Mala range of the forest on May 8.