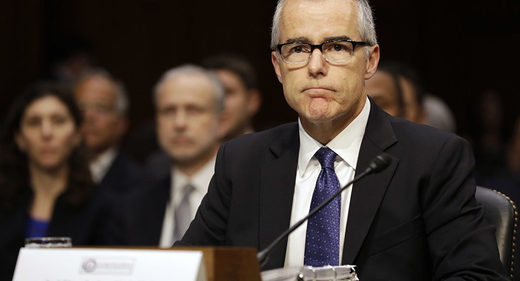 Three Freedom of Information Act lawsuits are seeking information on Acting Federal Bureau of Investigation (FBI) Director Andrew McCabe's political activities, travel and employment status, the watchdog group Judicial Watch said in a press release on Friday.
Judicial Watch President Tom Fitton is quoted in the release as saying the lawsuits will help answer questions about the ethics and judgment about the top leadership of the FBI.
"Judicial Watch today announced that it filed three separate Freedom of Information Act (FOIA) lawsuits against the US Department of Justice seeking records for current FBI Acting Director Andrew McCabe relating to his political activities, travel vouchers, and employment status," the release stated.
The first lawsuit seeks records of communications between McCabe and any FBI or Justice Department officials about ethical issues about himself or his wife Jill in political campaigns, and any records on ethical guidance about political issues provided to McCabe.
The release noted that the second lawsuit seeks communications records between then-Deputy Director McCabe and Virginia Governor Terry McAuliffe, the Democratic National Committee and the Democratic Party of Virginia while his wife was running for a seat in the Virginia State Senate.
The third lawsuit wants requests for travel approval and travel vouchers submitted by McCabe, the release added.