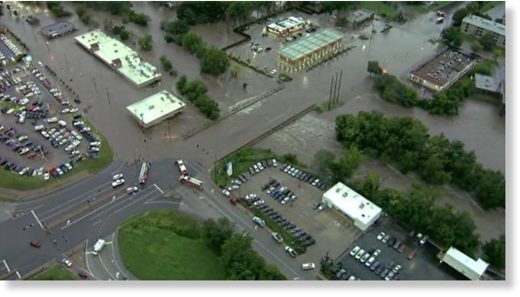 At least 7 inches of rain fell over parts of the Kansas City metro early Thursday causing serious flash flooding.
One of the hardest hit areas was near 103rd Street between Wornall and State Line roads. Water covered 103rd Street and flooded some businesses in the area.
Two people were rescued from Coach's Bar & Grill after flooding swamped the area.
One of Coach's owners, Brian Darby, said in a phone interview with KMBC that one of the walls at the bar collapsed due to the force of the water. Darby said he and a woman were checking the business because of the heavy rain when they became trapped.
The pair climbed into the rafters at the business, clinging to water pipes, awaiting rescue.
Firefighters chopped a hole in the roof and pulled them to safety about 8:15 a.m.
Indian Creek went from a 12-foot water level to just over 27 feet in about six-hour span. A few cars were swept into the creek.
A flood warning is in effect for the metro.
Kansas City firefighters said they responded to 36 water rescues around the metro.
A section of southbound Interstate 35 between Interstate 635 and 18th Street Expressway was closed because flooding.