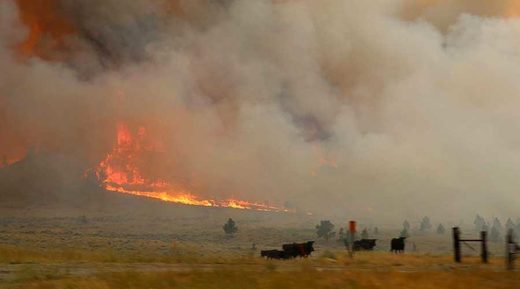 Over 600 firefighters from 34 states have gathered in eastern Montana's Garfield County to help stop the spread of what is now the largest active fire in the US.
On Tuesday, more than 600 firefighters began fighting the raging Lodgepole Complex fire that has destroyed 250,000 acres of range, brush and timber close to the Missouri River, according to the National Interagency Coordination Center, which gives logistical support for wildland firefighting. The fire has ravaged 22 structures,
according
to Reuters.
Montana Governor Steve Bullock (R)
issued
a state fire emergency executive order on Sunday for the wildfire that started last week after a lightning strike. Fortunately, the fire was growing Tuesday at slower rate than previously.
The Lodgepole Complex
fire
was 36 percent
contained
by Tuesday evening, and the Garfield County Evacuation Order for people living in the fire zone has been lifted, the Incident Information System reported.
Of the 45 active fires in the US, Lodgepole is the biggest. Relief supplies are being distributed and donated for those who have lost property or experienced any damage from the fire. Volunteers are also preparing food, gathering livestock and mending fences in an effort to help out.
Garfield County spokeswoman Anne Miller said that donations of hay, groceries and money are being sent into the small town of Jordan in Garfield County. "A house is considered a major loss, but the livelihood of most people here is the livestock, the pasture and grazing land," Reuters reported.
Public Information officer Mike Cole says that crews can't directly attack the fire due to safety concerns, because it is not accessible by road. Managers are now focusing on a longer term strategy for containing the fire. Crews are currently working on the construction of a control line, which will serve as a barrier for homes and the national forest land.
Cole elaborated on the strategy in place to contain the wildfire.
"So once we have this control line in, we are not just going to stop and wait for the fire to come along. We'll still be working this fire with helicopters and retardant if necessary. We're going to go back in the forest and find some road systems that are open or we can open up," he said, Montana Public Radio
reported.
Cole said that the fire is expected to grow, but the smoke overhead and the light winds have kept it contained.
The weather forecast for the next several days is hot and dry until Wednesday when a front will approach and bring gusty winds and isolated thunderstorms to the area of the fire. A small amount of rain is also expected. The end of the week will be hot with no rain expected in the forecast, according to Montana National Public Radio.