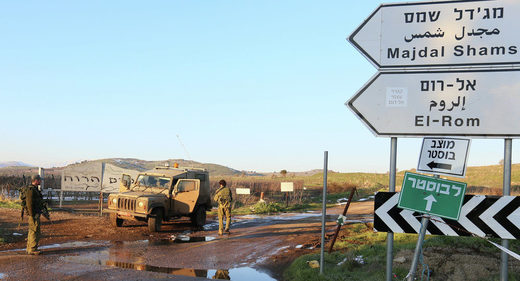 Tel Aviv has come out in opposition to the Russian-US ceasefire deal in southern Syria. Speaking to Radio Sputnik, Russian Middle East expert Boris Dolgov said it was noteworthy that Israel is now supporting those militant groups which both Moscow and Washington classify as terrorists.
Israel has voiced its opposition to the Russian-US ceasefire agreement reached by Presidents Putin and Trump at the G20 summit in Hamburg earlier this month.
Speaking to reporters following a meeting in Paris with French President Emmanuel Macron on Sunday, Prime Minister Benjamin Netanyahu
said
that Israel opposed the ceasefire plan.
According to the prime minister, the ceasefire would create the conditions for an Iranian presence in Syria. Israeli officials have also marked their concern with the fact that the ceasefire agreement closes only a 20 km strip of territory along the Israeli-Syrian border to Iranian forces.
Netanyahu's remarks Sunday were a reiteration of comments he made July 9, when he requested that Russia and the US take account of Israel's interests in Syria. "Israel will welcome the real cessation of hostilities in Syria, but it must not result in the consolidation of the Iranian and its satellites' forces in Syria in general and particularly in Syria's south," he
said
.
Kremlin spokesman Dmitry Peskov refrained from commenting on Israel's opposition to the ceasefire deal. "I will leave this without comments. The position voiced by President [Vladimir] Putin is in this regard consistent and well known. In terms of establishing areas of de-escalation, sufficient interaction is taking place among all parties concerned," Peskov said.
Russia and the United States will do everything in their power to ensure that Israel's interests are reflected when the Moscow-Washington de-escalation zone in southwestern Syria is established, Russian Foreign Minister Sergey Lavrov said Monday.
"I can guarantee that we have done everything and the US side has done everything to ensure that Israel's security interests within this framework are fully taken into account," Lavrov told reporters.
He said that preparatory work ahead of the July 7 agreement between Russian President Vladimir Putin and his US counterpart Donald Trump to implement a regional ceasefire "has been conducted with all interested parties, including with Israel."
Speaking to Radio Sputnik, Boris Dolgov, a senior fellow at the Middle East Studies' Center for Arab and Islamic Studies, expressed the view that Israel's reaction to the Russian-US deal was not surprising, and could be explained by the fact that Tel Aviv supports militant groups that both Russia and the US consider to be terrorists.
"Israel is more and more 'engaged' in the Syrian conflict," Dolgov
said
.
"This engagement consists of Israeli support for armed groups fighting against the Assad government in the Golan Heights. Israel officially admits that the militants from these groups receive medical treatment in Israeli hospitals. They explain this via the fact that these militants are fighting against the Hezbollah movement, which Israel considers to be a terrorist group," the analyst added.
Hezbollah, Dolgov said, has been active in southern Syria against Islamist groups, including al-Nusra. "Israel, apparently, disagrees with the fact that as a result of the [ceasefire] agreement, the Islamist militants' actions against Hezbollah will be terminated. This suggests that Israel, alas, has sided with these groups."
That, according to Dolgov, means that Israel, having actively intervened in the Syrian conflict, "has taken the side of those groups that the US and Russia consider to be terrorist organizations."