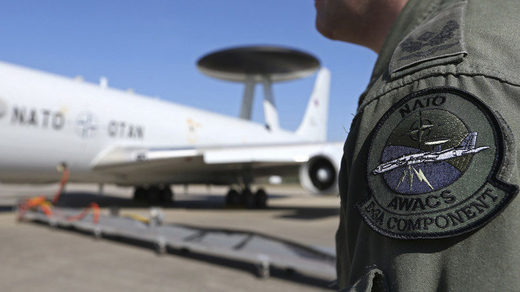 Berlin's right to visit German troops at a NATO Konya airbase in Turkey is non-negotiable, says Chancellor Angela Merkel, adding she will "flatly" deny any pre-conditions.
Merkel was commenting on a recent Turkish decision to bar German MPs from inspecting its soldiers at the NATO airbase in Konya when speaking to ARD broadcaster in a comprehensive interview on Sunday.
She called Ankara's move "awkward" and insisted the lawmakers should be allowed to visit the base, stressing that Berlin will not discuss any preconditions.
"If there will be any, we would flatly reject them," she stressed, as cited by
Die Zeit
.
Commenting on whether Ankara had asked Berlin to extradite officers who sought asylum in Germany after the failed 2016 coup in exchange for granting parliamentarians access to the airbase, Merkel said she was not aware of any such requests.
She said that both issues "have nothing to do with each other."
Later on Monday, the German government took a conciliatory tone by reiterating that Turkey had requested the postponement - not cancellation - of the MPs' visit to Konya.
"We take Turkey at its word and continue to discuss the nearest date for such a visit," a spokeswoman for the Foreign Ministry told journalists, as
cited
by
Frankfurter Allgemeine
newspaper.
Earlier this week, Turkey blocked German MPs' scheduled to Konya citing the dismal state of German-Turkish relations as the reason for the abrupt cancellation.
Ankara requested that the visit be barred indefinitely.
The lingering dispute over Konya follows Germany's decision in June to withdraw some 260 troops from Turkey's Incirlik Airbase, from where a US-led coalition is flying combat sorties against Islamic State (IS, formerly ISIS/ISIL) and redeploy them and their Tornado surveillance jets to neighboring Jordan.
Germany decided to pull out troops from Incirlik as its lawmakers were repeatedly denied access to the base by Ankara.
The last such refusal took place in May, after Berlin rejected again a Turkish request to extradite suspects in the foiled coup attempt to Turkey. Some 400 Turkish citizens filed for asylum in Germany following the events of July 15 last year.
A small contingent of German troops remains at Konya as part of NATO's AWACS mission. The alliance has already voiced concern about the spat urging Ankara and Berlin to come to terms.
On Friday, NATO had called German Foreign Minister Sigmar Gabriel and his Turkish counterpart Mevlut Cavusoglu to settle the dispute.
"We hope that Germany and Turkey are able to find a mutually acceptable date for a visit," a NATO spokesman said, according to Reuters.
Meanwhile, some senior politicians in Berlin say Ankara is using the base to put pressure on Germany.
"Our position is crystal clear: We need a basic, [and] unrestricted right to visit," Wolfgang Hellmich, chairman of the Bundestag's Defense Committee, told
Deutschlandfunk
radio, adding that Turkey's unfriendly stance is becoming "indeed a problem for NATO".