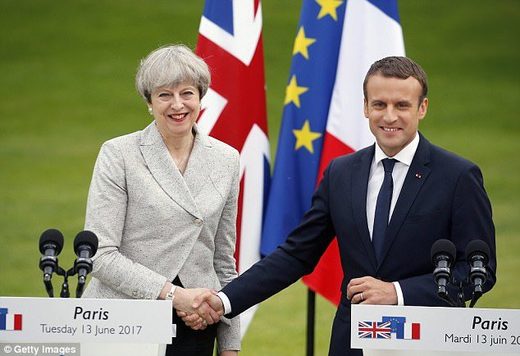 France has boasted to City of
London
chiefs that it will use
Brexit
to sabotage the British economy, according to a bombshell leaked memo.
The memo, sent to Ministers, says the French government and banking chiefs are plotting to 'actively disrupt and destroy' the UK's multi-billion-pound financial sector when Britain leaves the
EU
- even if
France
gains nothing.
The missive blames the 'giddy' effect of newly elected President
Emmanuel Macron
for an 'assertive collective endeavour' to wreck the City, which is worth £66 billion a year to the Treasury in tax receipts - around half of the entire budget for NHS England.
The memo was written after the City of London's Brexit envoy - former Home Office Minister Jeremy Browne - held talks in Paris earlier this month
at the French finance ministry, state-owned Banque de France, the French Senate and the British Embassy. He met banking chiefs, senior politicians and diplomats.
His message to UK Treasury Ministers and MPs says Macron's France has effectively declared open war on London's Square Mile. And he warns starkly: 'They are crystal clear about their underlying objective: the weakening of Britain, the on-going degradation of the City of London.'
He pointed to 'French representatives crashing around London' offering big sums to firms to move to Paris.
French finance minister Bruno Le Maire was appointed by Mr Macron earlier this year after being lauded for saying Brexit provided a 'fabulous opportunity for France'. And the country's banking bosses are just as belligerent, says Mr Browne.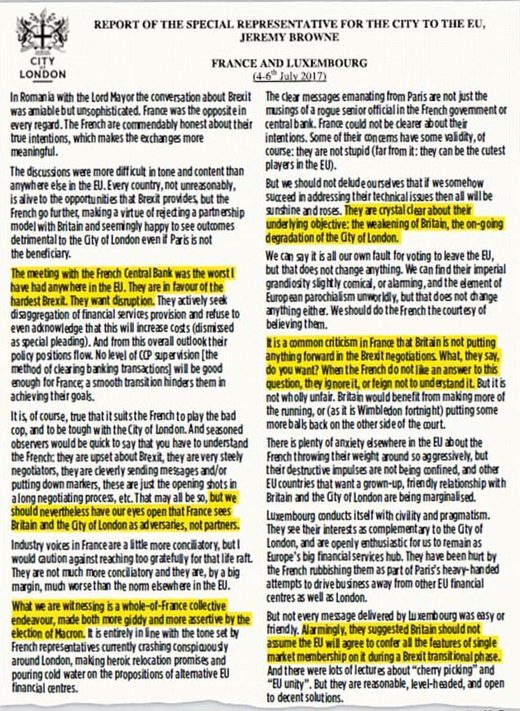 He writes: 'The meeting with the French Central Bank was the worst I have had anywhere in the EU. They are in favour of the hardest Brexit. They want disruption. They actively seek disaggregation of financial services provision.'
Reinforcing his warning, Mr Browne says: 'The clear messages emanating from Paris are not just the musings of a rogue senior official in the French government or central bank. France could not be clearer about their intentions. They see Britain and the City of London as adversaries, not partners.' The memo suggests that other EU nations who wanted good relations with the UK over Brexit were alarmed by France's hostile conduct but were powerless - or unwilling - to stop them.
Mr Browne says: 'There is plenty of anxiety elsewhere in the EU about the French throwing their weight around so aggressively, but their destructive impulses are not being confined, and other EU countries that want a friendly relationship with Britain and the City of London are being marginalised.'
The French were 'commendably honest about their true intentions - which makes the exchanges more meaningful.'
Mr Browne even hints they were acting out of spite, 'making a virtue of rejecting a partnership with Britain and happy to see outcomes detrimental to the City - even if Paris is not the beneficiary'.
Make no mistake, he warns, France sees the UK and the City 'as adversaries, not partners.'