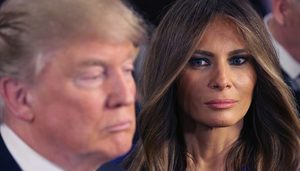 In an announcement that is sure to send shockwaves throughout the political world, Melania Trump held a press conference earlier today in which she admitted to being a Russian secret agent.
The former model turned First Lady was born in the Soviet area now known as Slovenia before she moved to America and married Donald Trump
. But today she gave a stunning public confession that she was, and had always been, a KGB agent.
'It is with a heavy heart that I must admit that I have deep ties to the KGB and Russian government. My mission has always been to keep a close eye on Donald and manipulate his actions to the benefit of the Russian government,' said Melania.
Melania went on to say that she could no longer stand living as the wife of Donald Trump, calling him a 'truly odious and repugnant man' which is why she chose to blow her own cover.
'If you'd spent a day alone with him, you'd understand,' said Melania.
Mrs Trump will now be taken into questioning by the CIA, as well as other intelligence officials, to find out the full details about her relationship with the KGB, Russian government, Vladimir Putin, and Donald Trump.
Melania Trump could now face charges of treason, a federal crime for which the punishment is execution.
'A small price to pay for no longer being Donald's wife,' she said.
President Donald Trump has reacted angrily to the story, calling it 'fake news' and 'sad'.