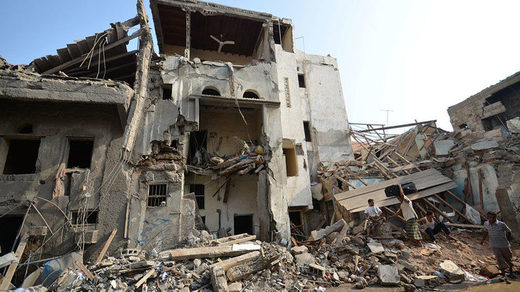 London's High Court has ruled that UK arms sales to the Saudi Arabian regime are "lawful" in response to a judicial review brought by the Campaign Against the Arms Trade (CAAT).
The case hinged on the question of whether the UK failed to suspend sales in line with legal obligations, given the Saudi's current war in neighboring Yemen, which has been waged in part using British manufactured military equipment.
Documents cited in court showed that civil servants had, in fact, recommended that sales should no longer go ahead, but ministers had ignored the advice.
"This is a very disappointing verdict, and we are pursuing an appeal," Andrew Smith of Campaign Against Arms Trade said.

"If this verdict is upheld then it will be seen as a green light for government to continue arming and supporting brutal dictatorships and human rights abusers like Saudi Arabia that have shown a blatant disregard for international humanitarian law."
CAAT's lawyer, Rosa Curling, said:
"Nothing in the open evidence, presented by the UK government to the court, suggests this risk does not exist in relation to arms to Saudi Arabia.

"Indeed, all the evidence we have seen from Yemen suggests the opposite: the risk is very real. You need only look at the devastating reality of the situation there."
CAAT, who have said they will appeal, had argued that the UK's continued sales are a breach of international law while the EU's common council also insists that sales to nations where violations of the law might occur must be halted.
In the last two years, the UK has licensed the sales of £3 billion (US$3.86 billion) worth of arms to the Saudi government, with which Britain is a longstanding ally.
Arm sales have included Typhoon and Tornado jets and the UK has had military personnel embedded in Saudi headquarters throughout the Yemen conflict, which has raged since 2015.
The British government maintains that the personnel are there to support adherence to international law and advice on rules of engagement.

Comment: Well that's not turning out too well. The British government must have a very selective eye on what constitutes 'international law'.


Both Royal Air Force (RAF) and Royal Artillery (RA) personnel have been deployed to train the Saudi military during the war.
The conflict - which has been accompanied with a blockade of major ports - has drastically worsened the humanitarian situation in the already-impoverished gulf nation.
The UN says 17 million people in Yemen are at imminent risk of famine, while dwindling medical supplies and lack of trained medical personnel have led to epidemics.
Leading humanitarian organizations, including the Red Cross, have named the aerial bombing campaign and blockade as the main causes behind the ongoing cholera epidemic in the capital, Sanaa, that has already claimed some 200 lives, while over 11,000 cases of the disease have been registered.