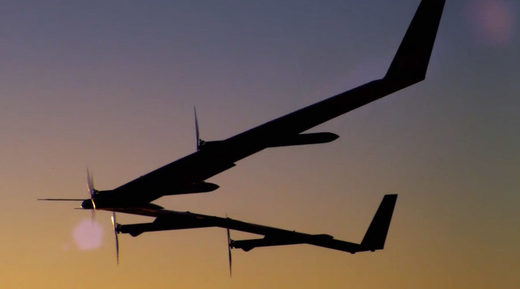 Solar-powered drones could one day provide 4 billion people in poorer parts of the world access to the internet, Facebook said after a "successful" test of its drone, Aquila. The internet company intends to share the blueprints for the technology.
Facebook co-founder and CEO, Mark Zuckerberg, posted video of the drone which landed in Arizona after flying for an hour and 46 minutes over the desert. The previous test of Aquila in December resulted in a crash.
"We successfully gathered a lot of data to help us optimize Aquila's efficiency. No one has ever built an unmanned airplane that will fly for months at a time, so we need to tune every detail to get this right," wrote Zuckerberg on Facebook.
When Aquila is ready, it will be a fleet of solar-powered planes that will beam internet connectivity across the world," he added.
Facebook is developing wireless antennas to go with the drones.
This technology is far less expensive than dragging fiber and power lines out into world's rural areas and setting up traditional antenna systems, known as base stations, according to Facebook vice president of infrastructure Jay Parikh. "We're reinventing the concept of a base station," he
said
.
The company does not plan to sell the technology, nor does it intend to operate its own drones and antennas, instead, it wants to freely share its blueprints so that many telecommunications companies can work to expand the reach of the internet
, according to
Wired
.
More internet access means more people can access Facebook. The company now has two billion monthly active users worldwide.
Facebook isn't the only company working to expand the reach of the internet. Google is building its own drones as well as high-altitude balloons that can deliver internet access from the stratosphere.