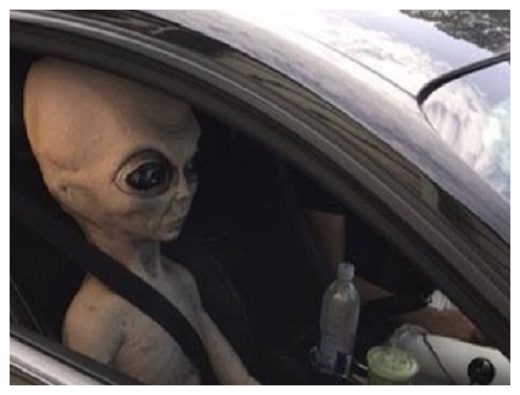 It's no secret that police see just about everything on the job - just ask the officers of the Alpharetta Department of Public Safety.
It likely started as a routine stop for what officials told 11Alive was a speeding violation. But as the officer approached, he noticed the passenger's stern, unwavering, unnaturally pale face. It was pretty clear that this guy was from out-of-town, to say the least.
That passenger turned out to be a life-sized alien doll - surprisingly lifelike if that's, indeed, what they look like. Naturally, photos were taken and ended up on the Alpharetta police Facebook page with all the necessary puns: "#ET #doesthisqualifyforHOV #IndependenceDay". (Could you blame them?)
The driver was apparently pulled over for going 84 mph - not too fast for interstellar travel but a bit too much for cruising through north Fulton.
As for the department's response: "Umm, the things you see during everyday patrol."